UW-Whitewater entrepreneurship opportunities light a path for recent grad
February 18, 2021
Written and photos by Craig Schreiner
As a first-year student at the University of Wisconsin-Whitewater, Kristen Holtan was assigned to choose from myriad student organizations in the College of Business and Economics and attend at least one meeting. The Appleton native chose the UW-Whitewater chapter of the Collegiate Entrepreneurs Organization, or CEO.
Holtan had struggled her first semester at college and felt like something was missing. She didn't have any strong passions and was unsure about what career direction she should pursue, although she recognized her ever-present interest in business.
"I went to this meeting because it was an expectation for my class," said Holtan. Then she added, "I ended up meeting people who were like-minded and future-focused, people I really wanted to spend time with, amazing mentors. Dave Gee completely helped get the fire for entrepreneurship going in me. To say that my life did a complete 180 after that meeting is a hundred percent true."
Holtan, an avid snowboarder, had been injured in a nighttime snowboarding accident. She had had the idea that strings of little lights could be both an accent and a safety device on snowboards, to help people see one another in the dark.
Gee, a management lecturer and advisor to CEO and Launch Pad, a program for student business startups, encouraged Holtan to create a business plan for her snowboard lighting idea that later included longboards and bikes as well.
"They were so supportive with my idea and they gave me the confidence to proceed forward with it," said Holtan. "I was never comfortable talking in front of people before, and all of a sudden I was in front of crowds of people and I was doing well in these competitions. It was incredible."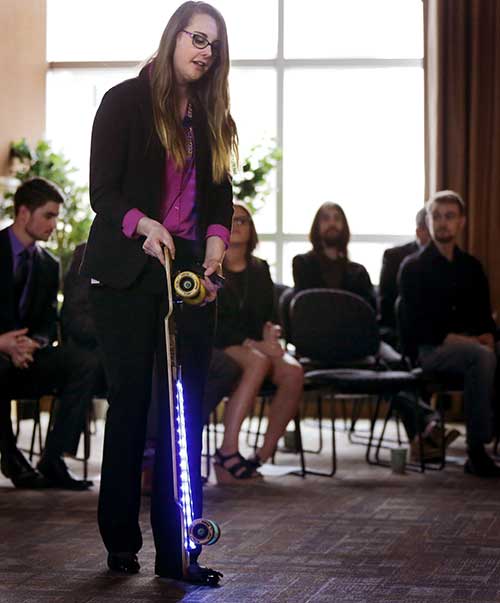 Kristen Holtan demonstrates a longboard outfitted with LED lights during the CEO elevator pitch competition finals on Wednesday, Oct, 12, 2016, at Whitewater University Innovation Center, in which she won first place.
Before graduating with a degree in entrepreneurship in 2020, Holtan would start her own business, participate in competitions, meet her future employer and become the company's marketing director.
Dustin Herte, the CEO and lead engineer of Blue Line Battery who hired Holtan, was named to the prestigious Forbes 30 Under 30 List of standout executives from the energy sector.
As a sophomore, Holtan met Herte after she won the top cash prize in the annual CEO elevator pitch competition at the Whitewater University Innovation Center. The center, east of the university campus, is an incubator where client business startups benefit from university faculty expertise and research — The Wisconsin Idea, in practice. Blue Line Battery is one of the startups housed in the center.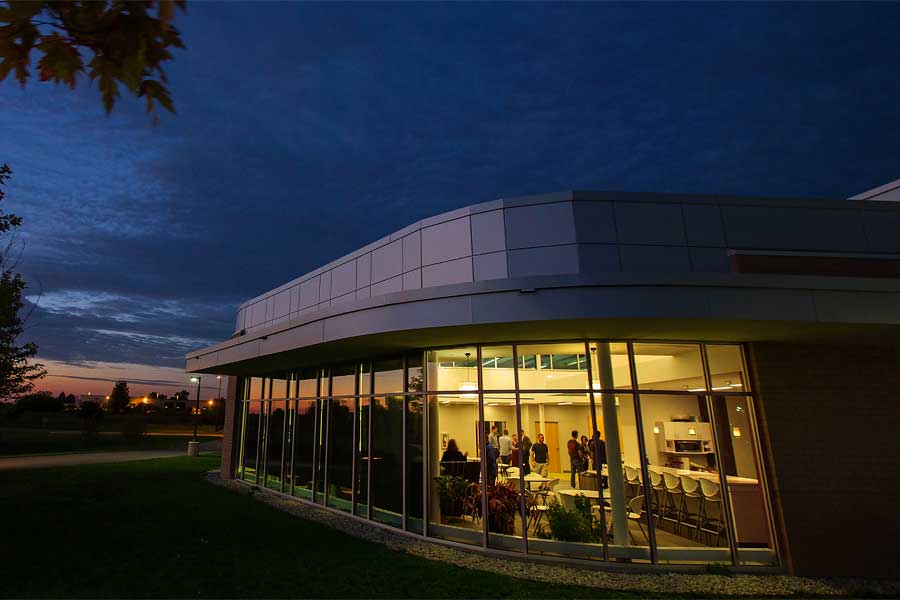 In the aftermath of the award ceremony, Herte stayed behind to congratulate Holtan. The conversation between the two entrepreneurs turned to batteries. She needed waterproof batteries for her products. He was designing batteries and 3D printing technologies.
"He had a solution and helped me develop my product further," said Holtan.
She wanted to give back to Herte, who was building his new business. Holtan began helping out, designing some stickers and other marketing materials and not charging for them.
Innovation Center Director Mark Johnson described Herte as a tenacious entrepreneur and a fantastic engineer who had been making and selling electric recumbent trikes powered by lithium iron phosphate batteries he designed. On the advice of Innovation Center staff, Herte was pivoting away from the trikes to focus solely on Lithium-ion technology, making rechargeable power systems for industrial equipment at Blue Line Battery.
"He ended up offering me a position on the team as a co-founder and marketing director," said Holtan, who was hired by Herte in May 2018, between her sophomore and junior years of college. She joined a team of Blue Line Battery founding members, all in their 20s. Four of the six on the team are Warhawks: Holtan, Chief Sales Officer Lukas Walter, who attended 2012-2017 and double majored in general management and economics, Business Development Director Benjamin Breitenbucher, who earned a BBA in entrepreneurship in 2019, and Lead Sales Manager Tyson Curtis, who attended 2015-2019 and majored in marketing.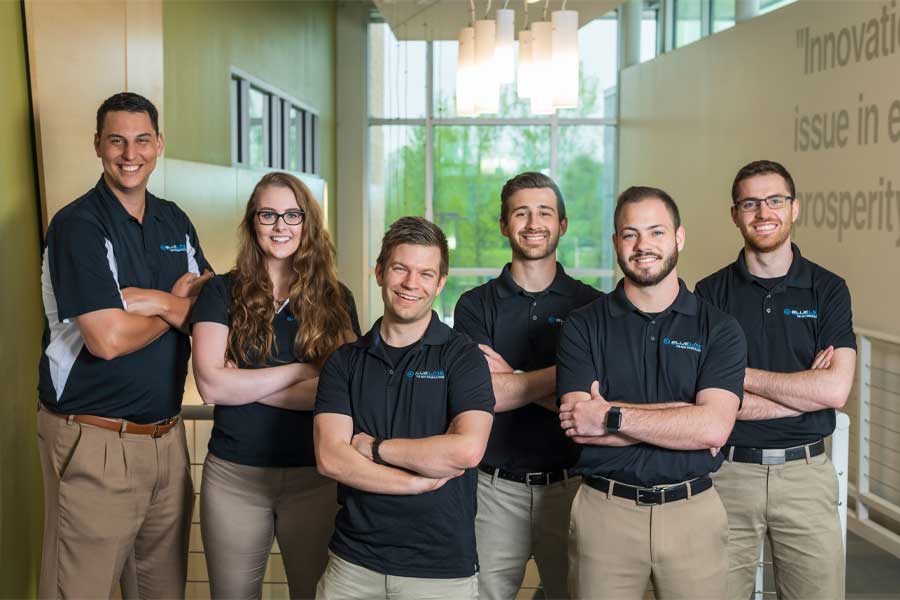 "The resource is here," said Johnson of the Innovation Center and the entrepreneurship program at UW-Whitewater. "That's why UW-Whitewater produces students who are able to do what they've been doing."
"I guess we (entrepreneurs) see opportunities and we want to take advantage of those opportunities," Holtan said. "And it's not just to make sales, but opportunities to make the world a better place."