Recent graduate is UW-Whitewater's first Truman Scholar — a national honor
April 28, 2021
Written and photos by Craig Schreiner
Thor Manson, an Army veteran who enrolled at the University of Wisconsin-Whitewater after serving in Iraq, is the first Warhawk to be named a Harry S. Truman Scholar. Manson joins 61 other graduates from Stanford, Howard, Yale, Harvard, Princeton, Notre Dame and other institutions in winning a 2021 Harry S. Truman Scholarship Foundation award for graduate studies.
Manson, who graduated with a degree in geography in 2020, is a native of Fall River in Columbia County. The $30,000 scholarship secures his dream of graduate studies in international development at the McCourt School of Public Policy at Georgetown University in Washington, D.C., where he will attend beginning in fall 2021.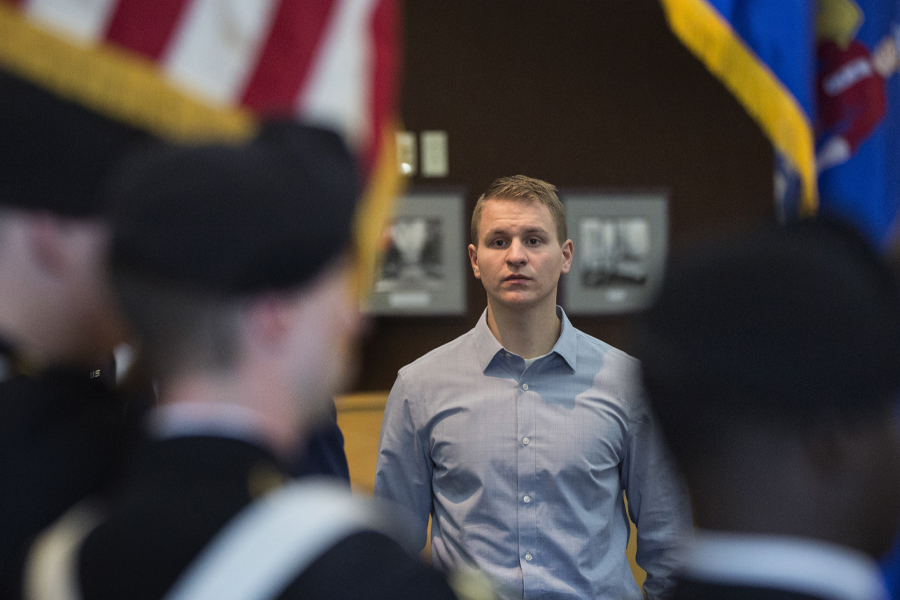 Manson is among students of his generation who, tempered by war, the Great Recession and the COVID-19 pandemic, have a clear-eyed view of making the world a better place and are using the opportunities that higher education provides to get there.
The U.S. Army was a pathway to higher education for Manson. After serving, he enrolled at UW-Whitewater to study with outstanding faculty like Eric Compas, professor of geography, geology and environmental sciences. Compas leads the GIS Center, where students learn geographic information systems by using them in the field.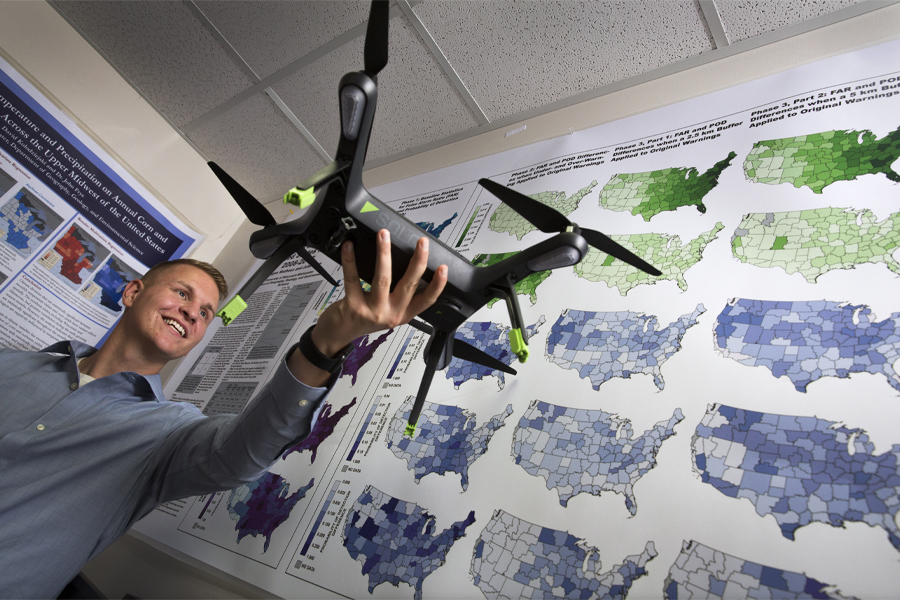 Thor Manson holds one of the drones used in the GIS research lab at UW-Whitewater.
"Dr. Compas is one of the kindest people I've ever met," said Manson. "He approached me when I was still a freshman. It was in my second semester. He offered to be my mentor and to let me work on research with him."
"I had challenges in college," said Manson. "There were times when it would have been easy for me to give up on academic life and let it go by the wayside. But he really kept me involved."
Manson was formed by teachers who kept him on track. He credits his junior high school teachers Kevin Book in social studies and Nathan Wenzel in science as early inspirations. At UW-Whitewater, Manson credits his boss Justin Dickerson in University Housing as his model for serving others selflessly.
Enlisting in the U.S. Army at age 17, Manson trained as a geospatial engineer, which involved him in planning and resettling some 3.5 million refugees who were fleeing ISIS in Mosul, Iraq. That work introduced him to international development and to a United Nations organization in the region, the United Nations Human Settlements Program, or UN-Habitat, with whom he worked on mapping and planning.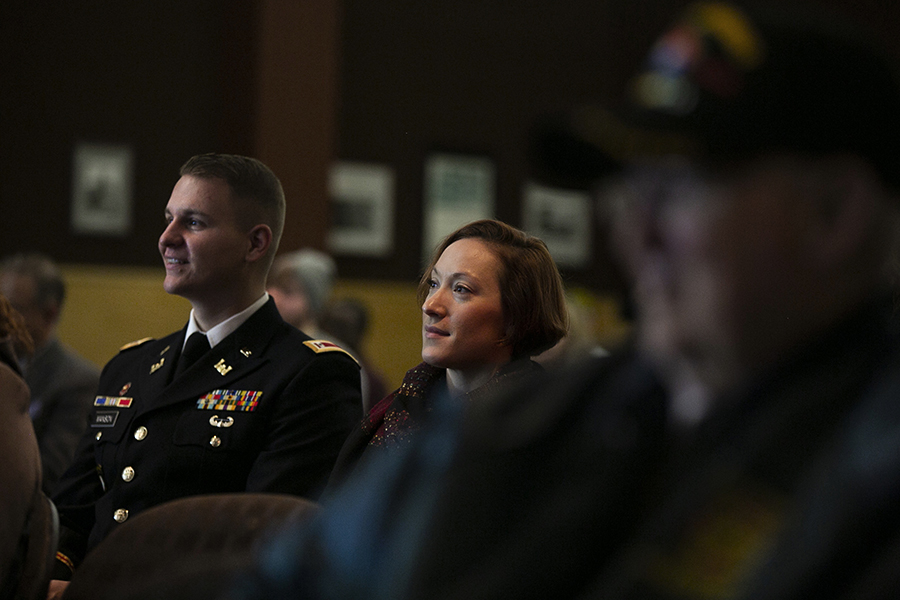 Thor Manson, left, is with College of Letters and Sciences advising coordinator, alumna and fellow veteran Annie LaValley during a Veterans Day Ceremony on campus.
"I really want to work either with the U.S. State Department or with the UN-Habitat group because they both are working on the New Urban Agenda," said Manson. "The New Urban Agenda is a set of guidelines and goals for infrastructure, environmental conservation and education and overall health of communities."
"I'd like to serve in Sub-Saharan Africa," he said. "Through my minor (at UW-Whitewater), my expertise was Sub-Saharan Africa. It's where most of the growth is going to happen, certainly in my lifetime."
Until Manson enters Georgetown, he is working as a foreign policy analyst in Washington, D.C. During his undergraduate years at UW-Whitewater, Manson completed two internships as a policy analyst.
At the start of his final semester at UW-Whitewater last fall, Manson came across the Truman Scholarship application. He chose one of his professors, Jonathan Burkham, associate professor of geography and coordinator of the international studies program, as his faculty mentor, a requirement for the scholarship. Burkham had grown up in Appleton, 80 miles from Manson's home in Fall River. He had studied international development, lived in Peru and focused his scholarly research on how migrant workers in Wisconsin influenced economic development in their home communities in Mexico.
Manson and Burkham consulted through the fall as Manson wrote his application, crafted a policy proposal and, as a finalist, prepared to be interviewed by a panel. Burkham said there were 845 applications for scholarships, which led to 193 finalists and 62 winners.
"I was thrilled for him," said Burkham. "I'm happy for UW-Whitewater to get that recognition too. Most of the other finalists come from pretty big institutions. And I'm happy to see us get our due."
Manson met some of the other Truman Scholar applicants during a virtual dinner for the finalists. He came away with a sense of awe from the stories of finalists like the young woman at his table who had fled as a war refugee with her family and who had become a scholar and finalist. She later became one of the winners.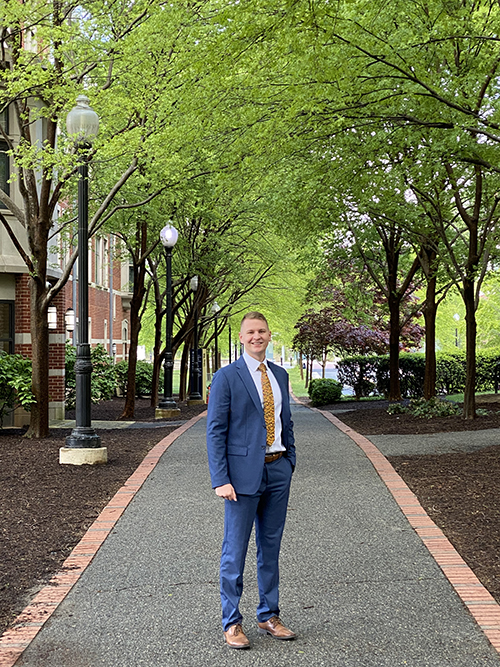 "I would have had to put off graduate school, if not for one year, maybe for many years," without this scholarship, said Manson, shown at Georgetown University on April 25, 2021. "And then, I really hoped that I showed who I am. I was hoping that I was sort of good enough. I was like, 'I hope I belong with this group of people.'"
Established by Congress in 1975 as the living memorial to President Harry S. Truman and as a national monument to public service, the Truman Scholarship carries the legacy of the 33rd president by supporting and inspiring the next generation of public service leaders. The unassuming Manson now finds himself in the company of such prior Truman Scholars as Stacey Abrams, a lawyer, politician and voting rights activist, Supreme Court Justice Neil Gorsuch and the current U.S. National Security Advisor Jake Sullivan.
Manson learned of his win earlier this month during a virtual check-in with Burkham. As Manson and Burkham discussed the international studies program, Chancellor Dwight C. Watson popped into their Webex room.
"I saw Dr. Watson's face," said Manson, who somehow stayed composed and instinctively welcomed Watson into the discussion. If Watson and Burkham looked mirthful over contriving the meeting that night, Manson was too stunned to notice. Finally, it was Watson who spoke up.
"Thor," said the chancellor, "You've won a Truman Scholarship."