Warhawks head to Tokyo to compete in Paralympic Games
August 09, 2021
More chariot than chair, propelled by calloused hands, steered by torso muscle, careening, crashing, then pirouetting on a wheel, Warhawk wheelchair basketball athletes will go for gold at the summer Paralympics, Aug. 24 to Sept. 5, in Tokyo, Japan. University of Wisconsin-Whitewater players and coaches, women and men, past and present, have grown this sport. Some will participate on the court. Others will be there in spirit and influence.
Friends and rivals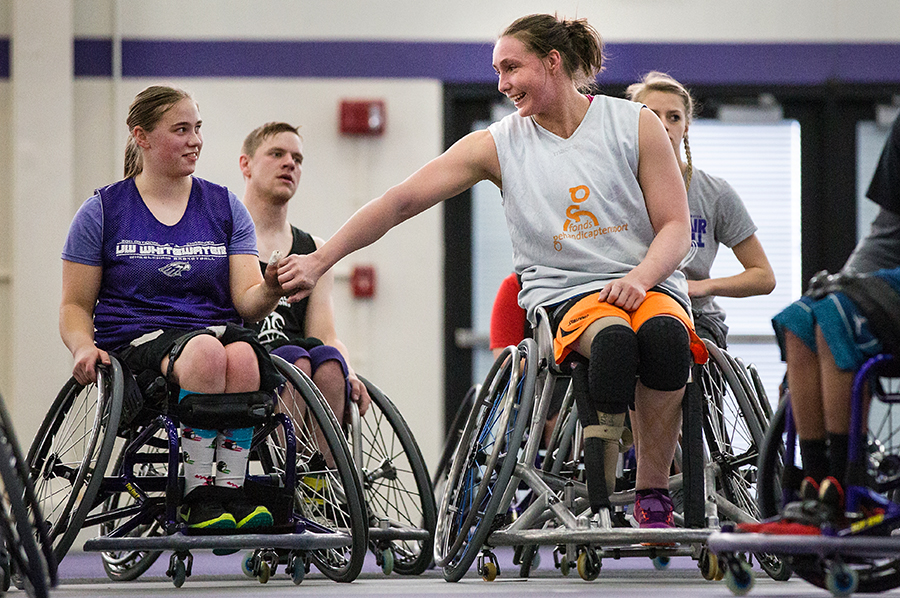 Former Warhawks Mariska Beijer (playing for the Netherlands) and Lindsey Zurbrugg (United States), will face one another in the first game for both countries on Aug. 24.
When they met at UW-Whitewater, Zurbrugg was a freshman from Oregon and Beijer, a senior, was starting her final semester. They quickly hit it off, joking around, watching Disney movies and making apple pie in the kitchen of the campus residence hall where they lived. Zurbrugg, always competitive, thrived on Beijer's basketball intensity, finding a kindred spirit and mentor.
"Her (Beijer's) personality, her work ethic are unparalleled," said Zurbrugg. "She took me under her wing. I learned the way she did it. A lot of my work ethic and the intensity that I play with comes from her. I saw her being successful and I wanted to be successful."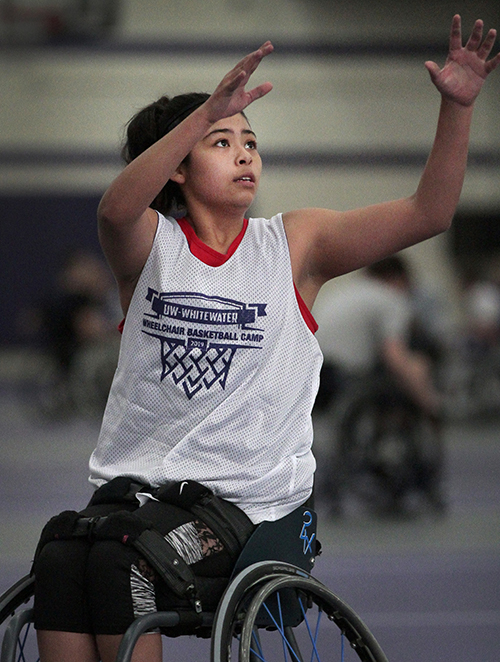 "It will be intense," said Zurbrugg of the Paralympics. "When you look at the higher levels of wheelchair basketball and the ball movement and the defense, it's just poetry in motion. It becomes more like a chess game and a mind game than just a skill game. Everybody's at that high skill level now, and so it's about outthinking your opponent."
On women's Team USA, the Warhawk connection doesn't stop with Zurbrugg. With her, pictured left, is Ixhelt Gonzalez, 17, a high school junior from Chicago who attended summer Warhawk wheelchair basketball camps. In addition to Beijer, recent Warhawks who will play for their home countries' teams include Sammy White, Australia, and Andre Bienek and Mareike Miller, of the German men's and women's teams respectively.
Five of the 12 players on the U.S. men's national team are former Warhawks: Jake Williams, Matt Scott, Matt Lesperance, Nate Hinze and John Boie. Head men's Team USA coach Ron Lykins coached the Warhawks in the late 1980s and early '90s and contributed to their dominance. Lykins recently hired Warhawk head women's basketball coach Christina Schwab as an assistant coach.
The men's team opens their Paralympics play on Aug. 25 against the German team and Bienek. The U.S. and Australia are in the same bracket, so the Warhawks on Team USA could face White and the Australians as well.
Overcoming a challenging year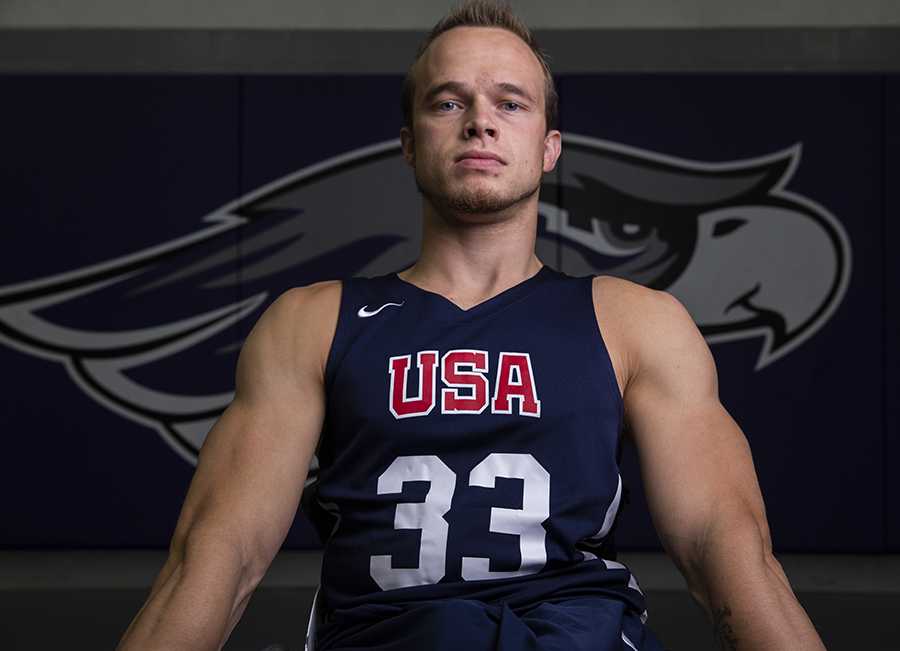 In 2019, Boie was on the U.S. men's national team which won the gold medal at the Parapan Games in Peru. The win gave Team USA an automatic berth at the 2020 Paralympics in Tokyo. When the COVID-19 pandemic hit and the Olympics and Paralympics were delayed until 2021, Boie said the news was "devastating" to the athletes.
"You're trying to peak as an athlete at a certain time so you can perform at your best," said Boie. "It was a struggle mentally to stick with it and physically, because access to equipment and gyms just wasn't the same."
After playing in a national tournament in March 2020, a year would pass before Boie faced another opponent on a basketball court. He decided to deal with a nagging shoulder injury and have surgery. In April of this year, Boie moved into a residence hall at the Olympic and Paralympic Training Center in Colorado Springs, Colorado, where his daily routine included online office hours for his job as an academic advisor at UW-Whitewater, physical therapy for his shoulder, weightlifting, practicing his basketball skills and strengthening his mind and body.
"It's a dream that we're training for," said Boie. "It's a dream that provides no promises whatsoever. But if you don't train, if you don't try to push yourself, you're a hundred percent not going to win."
Three golds and counting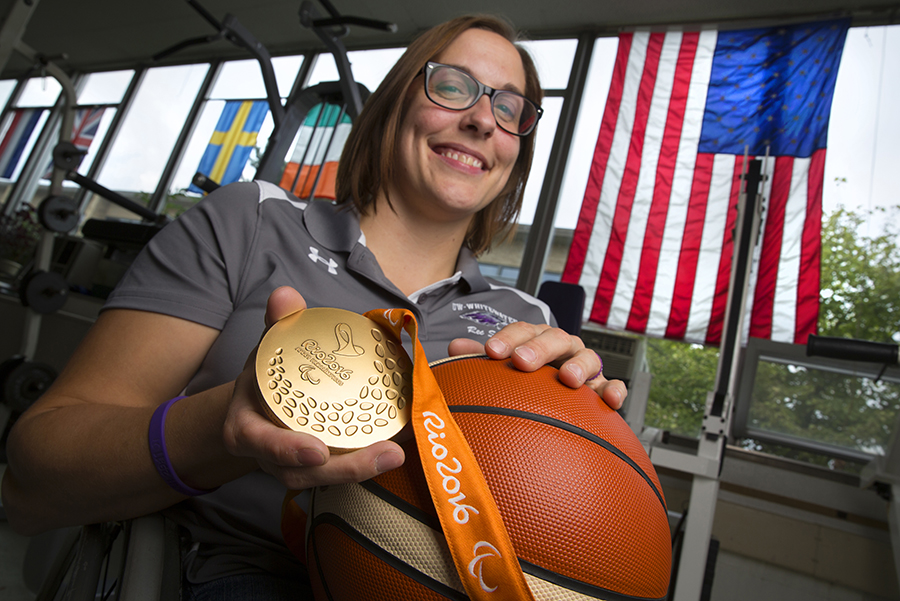 Christina Schwab, head coach of the Warhawk women's wheelchair basketball team was picked by Lykins to be an assistant coach on the U.S. men's national team in the Tokyo Paralympics. It will be Schwab's sixth Paralympics since 2000. She has reported for duty as a basketball player, track athlete and now, a coach. The three gold medals Schwab owns all come from playing wheelchair basketball on U.S. women's national teams at the games in Rio de Janeiro, Athens and Beijing.
"The first time you get your USA jersey and the 'USA' is across your chest when you put it on, there is no greater sense of pride," said Schwab. "You've worked this hard. Your coaches believe in you. Your teammates believe in you. You get to represent your country."
"If I have any athletes who come to this program (at Whitewater) and want to be at that level, I will strive to do my best to help them get there," she said.
At only 15 years old in 1996, Schwab was picked as a Team USA alternate for the Atlanta Paralympics. Four years later at Sydney, she played on an up-and-coming but evolving Team USA that failed to win a medal.
A breakthrough came in 2004 at the Athens Paralympics when a scrappy American team faltered early, then fought through the field to beat powerhouse Canada in the semi and win gold in the final. At Beijing in 2008, Team USA defended its title and Schwab earned a second gold medal. An all-around athlete, Schwab competed in distance races, including a marathon, in 2012 in London. She returned to wheelchair basketball in 2016 at Rio where both men's and women's U.S. teams won gold. Schwab came home with a third gold medal.
Schwab was 12 years old when she first saw Lykins at a Warhawk wheelchair sports camp in 1993. He was head coach of Warhawk wheelchair basketball but soon would leave to work with men's and women's international wheelchair basketball teams. When Schwab began competing at that level, Lykins was already there coaching Paralympians. Now a new chapter is opening for them.
"It's an awesome opportunity to have a veteran squad," she said of the men's national team.
"They've been playing together, the majority of them for about nine years. They feed off of each other. They know each other's tendencies. Right now, it's about refining, perfecting and fine tuning."
All of the athletes come to the Paralympics with their own life stories. Schwab lives with the spina bifida she has had from birth. She's an athlete, college coach, wife, and mother of two young children. As a child, Boie survived a farm accident. Now he's representing the U.S. as a Paralympian.
When an undetected spinal defect caused her paralysis, Zurbrugg was active in sports and loved to compete. She found a new way to run.
"A basketball chair, as soon as I hop into that, it's a whole new world where I can go fast again," said Zurbrugg. "I could feel a breeze on my face. I could be athletic again. I wanted to be competitive. I wanted to be athletic."