Best in the nation: UW-Whitewater student org that focuses on mental health wins Chapter of the Year
February 23, 2022
Written by Jeff Angileri | Photos by Craig Schreiner and submitted
When Kelsey Pacetti discusses the importance of mental health — and fighting stigma around a topic that can be uncomfortable to talk about openly — she's speaking from personal experience.
"When I started college in Michigan, I was really a hopeless type of person, someone who struggled with suicidal ideation and almost lost my life," she said. "I was really struggling with my own mental health and looking for a place to support me, which led me to Active Minds. It woke me up. I chose to transfer to the University of Wisconsin-Whitewater because it too had an Active Minds chapter. It saved me and gave me a purpose."
Active Minds is a national student organization that empowers young adults to speak openly about mental health, to encourage people to seek help and to prevent suicide — the second leading cause of death in this population.
Pacetti, from Verona, is in her third year as president of the Warhawk chapter — which has been named 2022 Chapter of the Year, out of 600 Active Minds chapters in the United States. The honor comes two years after Pacetti was named the organization's Adam Carlson Student Leader of the Year. She has helped grow Active Minds from a startup student org in 2016 (established by alum Taylor Stevens) to one that has 35-plus members and partners with many student-led, university and community organizations.
"It's not a support group. It's an advocacy group," Pacetti said.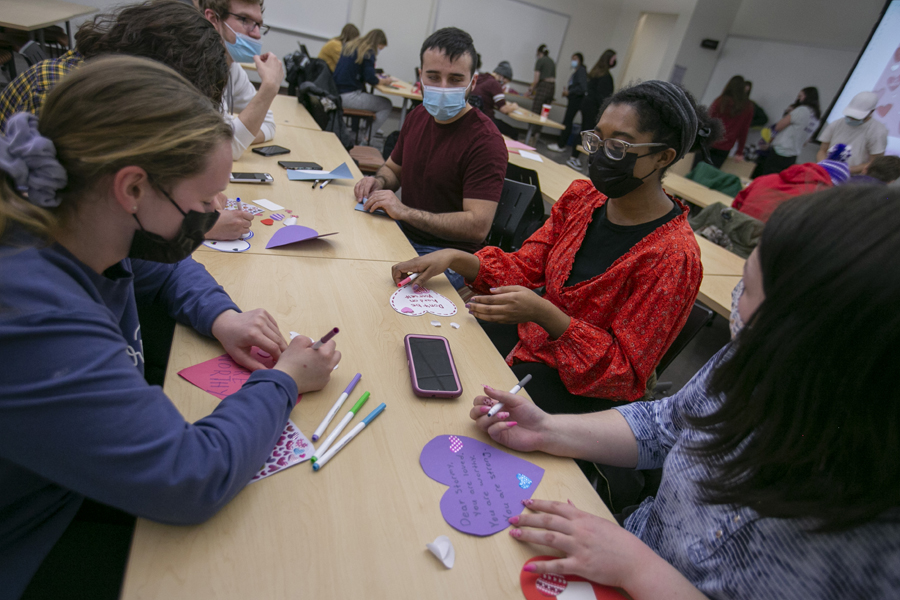 In recognizing the Warhawk chapter, the national organization said, "Active Minds at the University of Wisconsin-Whitewater has been working to deeply engrain mental health awareness, advocacy, and education into the fabric of their school community. They have successfully amplified the conversation around mental health with many programs and outreach events."
Active Minds efforts can be seen across UW-Whitewater and the city of Whitewater. The group brings the "Send Silence Packing" suicide awareness project to the north Wyman mall between the University Center and Hyland Hall every year. In the event, backpacks with letters from survivors of suicide loss are spread through the open spaces near the gardens, and volunteers are on hand to offer information and resources.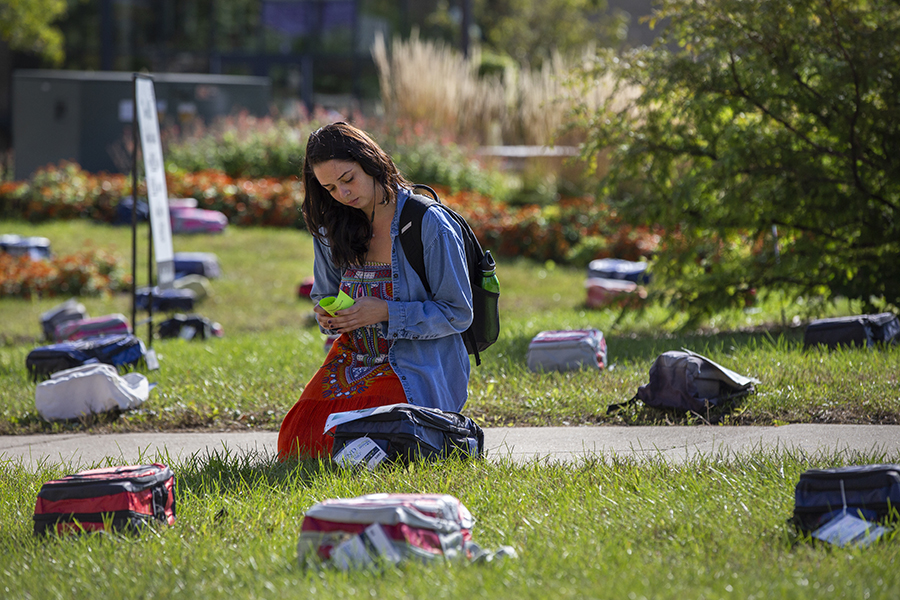 As part of the Yellow Tulip Project, Active Minds planted 3,000 yellow tulips at Cravath Lakefront Park in downtown Whitewater and at the Campus Memory Garden, next to Young Auditorium.
"The way tulips persevere through winter and the darkest time of year and then bloom in the spring is a metaphor for successfully navigating mental health struggles," Pacetti said.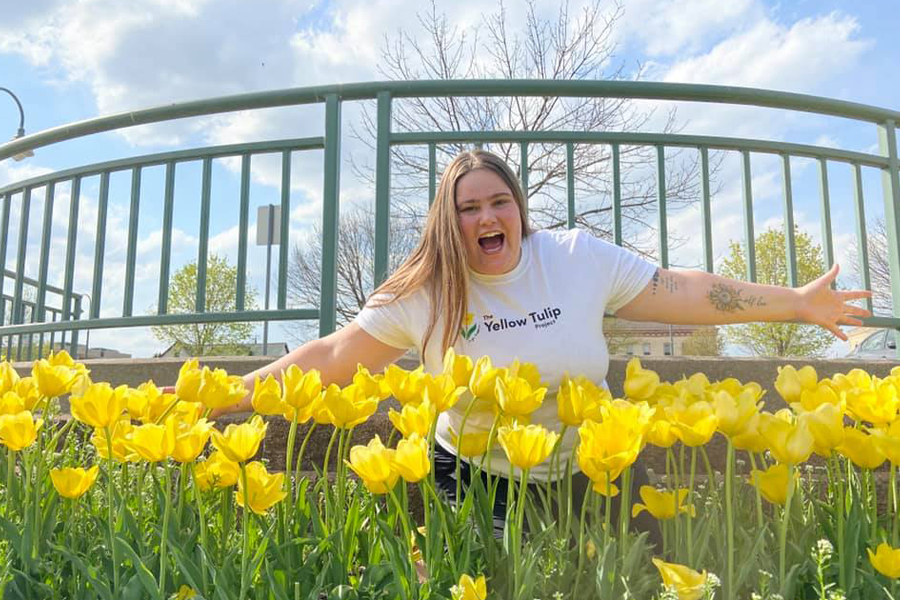 Other efforts coordinated by Active Minds include a suicide prevention walk, self-care activities and crafts, a mental-health-themed Jeopardy game, guest speakers, a tabling event for with lollipops called "Stigma Sucks!" and the creation of two TikTok campaigns — one that allows members share their favorite Active Minds memory, and another to highlight how suicide and mental health conditions affect all people. The organization also brought "unmasked," a mobile app that allows students to remain anonymous and have conversations about mental health.
Students at UW-Whitewater have access to free counseling via video, telephone or in-person appointments with staff who specialize in the unique needs of college students. Active Minds plays a critical complementary role in getting students to a place where they will seek out services. According to the organization, 67% of young adults first tell a friend they are feeling suicidal before telling anyone else.
"There is a growing awareness about mental health problems due to the advocacy work of organizations like Active Minds," said Heather Niemeier, associate professor of psychology and advisor of the UW-Whitewater chapter. "You can see the impact. The work of Kelsey and her peers is part of a movement of the younger generation to ensure mental health discussions can be out in the open, to be able to talk about it and positively make a difference."
The pandemic has exacerbated mental health struggles — 89% of college students are experiencing stress or anxiety as a result of COVID-19.
"Making connections has been the biggest struggle," Pacetti said. "Students who started their college experience during the pandemic didn't form connections or make friends in the same way that older students had in person."
Niemeier said faculty see the need to keep students motivated as a high priority. And they're also seeing anxiety among students about returning to the "new normal." Along with the faculty and staff at UW-Whitewater, Active Minds will be there to support them along the way.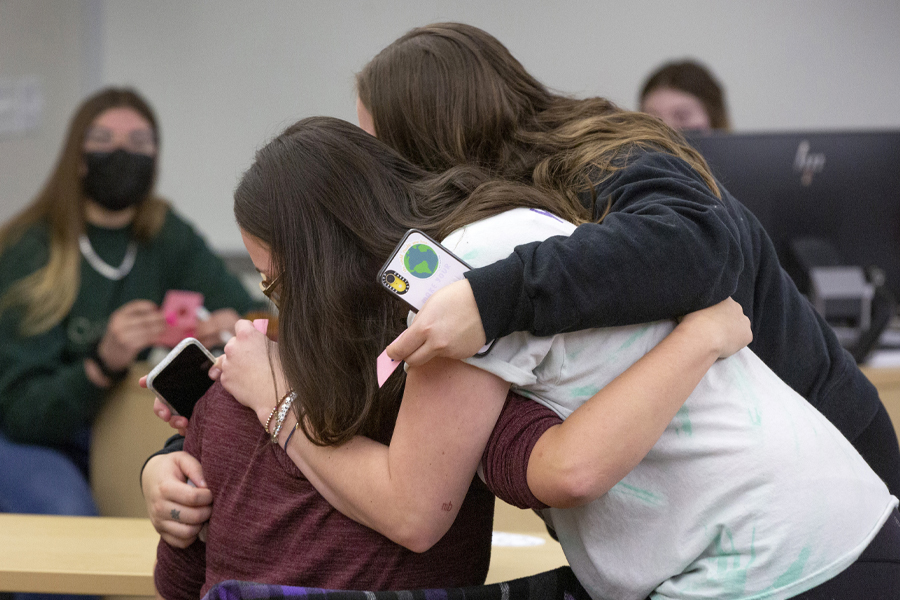 Pacetti, a social work major, will graduate in May. Her aim is to work at a mental health nonprofit.
"I never want anyone to feel like I felt or sometimes do feel," Pacetti said. "Even if today is not a good day, or it's not a good month or year — hope happens, and you can find it."
Counseling at UW-Whitewater is free and confidential to enrolled students. If you need help during general office hours, call 262-472-1305 or stop in the second floor of the Ambrose Health Center between 8 a.m. and 4:30 p.m. Monday through Friday. For urgent concerns, there is a counselor available without appointment for crisis intervention when the health center is open, and community providers are available for after-hours care.