UW-Whitewater student wins national writer's prize with "dazzling and deeply felt" essay
February 25, 2022
A destructive typhoon. Her mother's delicious breakfast. Spanish, Japanese and American colonists. The Second Coming. Disney movies.
Hannah Agustin reflects on all these topics and more in her essay, "Thirteen Ways of Looking at the Rapture," which is now a nationally award-winning piece of nonfiction.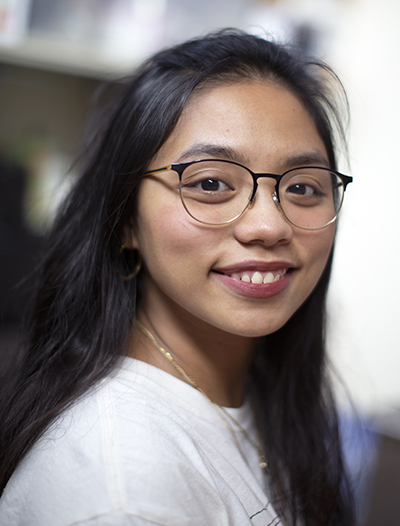 The University of Wisconsin-Whitewater student is the winner of the Norton Writer's Prize, a competition of outstanding collegiate student writing that comes with a $1,000 cash award.
In her essay, Hannah — who grew up in the Philippines and immigrated to the United States in 2019 — writes vivid descriptions of her homes in both countries and her family, all while discussing faith, the realities of living in places 8,000 miles apart, and the oppressive colonial history of her homeland.
As the judges of the contest described: "This essay shows the indomitable spirit of the writer as she navigates the loss of family, country, and belongings, concluding at one point, in a highly moving sentence, 'My house is built on things left behind,' a kind of metaphor for the sense of dispossession she has felt throughout her life."
Hannah, who now lives in Whitewater, began writing as a kid to feel less alone.
"It was difficult coming to the United States without knowing anyone besides my immediate family. Although I grew up learning English, it was formal — not conversational — English, so it was hard to socialize and make connections at first," she said. "Whenever I write, I can make sense of the loneliness that I feel; not in a way that romanticizes it, but in a way that grounds me in my world and society."
Her innate talent flourished when she enrolled at UW-Whitewater as an English and film studies double major, where she encountered a supportive network of professors and classmates.
Barrett Swanson, assistant professor in the Department of Languages and Literatures, says Hannah is part of a particularly exceptional crop of students and he feels fortunate as a professor to be able to teach them.
"Since coming here in 2017, I've been staggered and stupefied at how talented our students are," said Swanson, who teaches both fiction and nonfiction writing. "Hannah's accolade signifies that her essay is one of the finest in the country, and she's one of the strongest writers we've ever had at UW-Whitewater."
An accomplished writer himself, Swanson is a the recipient a Pushcart Prize, and his work has appeared in Harper's, The New Yorker, The Paris Review, The New York Times Magazine, The Guardian and other prestigious publications.
"I've learned so much from Barrett Swanson," Hannah said. "He sees the full potential of what his students can do. A lot of what I write are very personal essays and poetry – I do a lot of life writing. My professors at UW-Whitewater care for me not just as a writer, but as a person. They're responsive. They listen to me when I communicate things, and help me navigate struggles."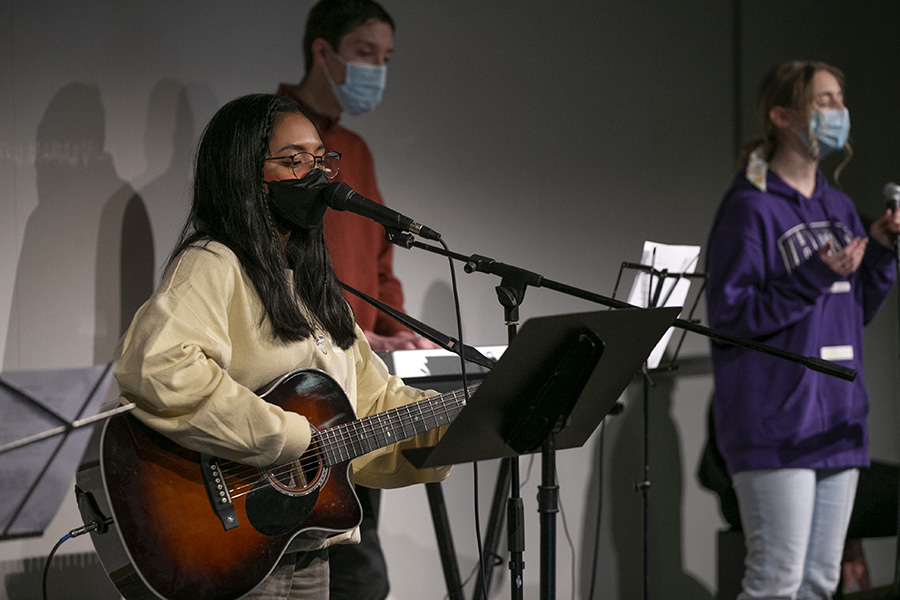 Hannah has taken advantage of all that a university experience has to offer. She's the nonfiction editor of The Muse, the student-produced literary magazine.
Supported by UW-Whitewater's robust Undergraduate Research Program, Hannah traveled to south Florida for the Key West Literary Seminar, when she met acclaimed author Judy Blume and visited the home of the late writer and artist Shel Silverstein.
When she's not writing, Hannah pursues her love of singing as a music minor and her faith as a leader in the university chapter of Intervarsity Christian Fellowship. She's a member of the Southeast Asian student organization and works an on-campus job at Roberta's Art Gallery in the University Center.
"Being a Warhawk means being a part of a community that fully supports you, and I've seen that not just in classrooms, but in friends I've made and the organizations I'm a part of. It's knowing you are supported wherever you go on campus.
"My plan after graduation in May is to pursue a master's degree," she said. "Ultimately, I want to publish a book of essays, and to teach creative writing at the college level."