UW-Whitewater researchers conduct statewide study of seniors' use of smart medical devices
May 05, 2022
A grant-funded interdisciplinary research project that partners social work and cybersecurity is connecting University of Wisconsin-Whitewater students with seniors across the state of Wisconsin.
The research project, titled "Privacy Protection Among Community-Dwelling Older Wisconsinites in the Age of Internet of Things," investigates the privacy practices of seniors who use smart medical devices, such as glucose monitors, hearing aids and EKG monitors, which collect personal health information and connect wirelessly to the internet. The wide deployment of smart medical devices (SMDs), or Internet of Things (IoT) medical devices, has brought greater efficiency to healthcare, but it poses serious privacy risks. This is especially true for older adults, who are particularly vulnerable when using technology.
An exploratory interdisciplinary research study to explore those risks is funded through a one-year grant from the Tommy G. Thompson Center on Public Leadership. As part of the study, UW-Whitewater students interviewed older Wisconsinites who use smart medical devices to learn how they use the devices and understand how their information is stored and collected. Researchers then tested similar smart medical devices in a laboratory, purchased with grant funding, to assess their privacy and security. The information gathered will be used to inform health care providers who recommend these devices, developers who create these devices, and state policy makers who establish laws to protect Wisconsin's older adults.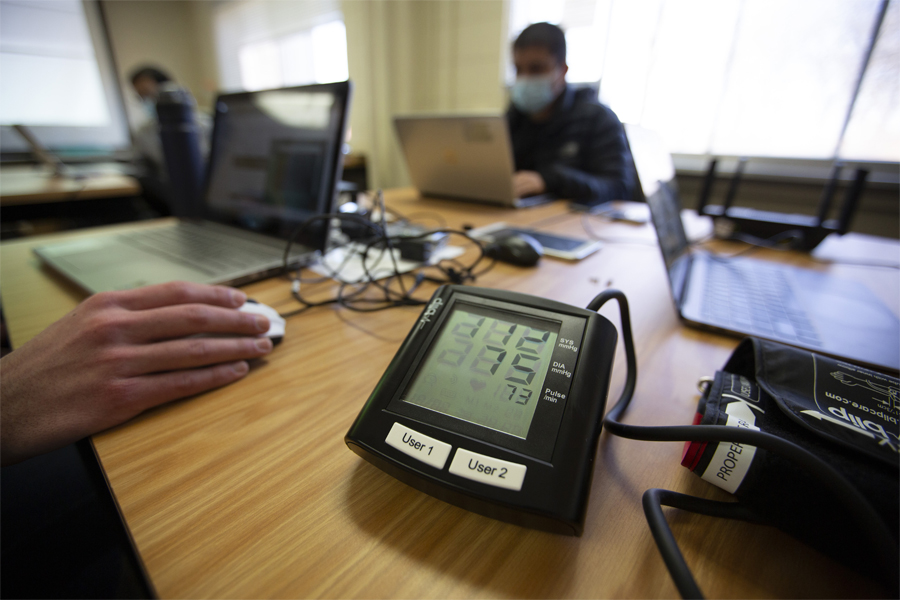 The investigation is being led by Associate Professor Jiazhen Zhou, Professor Jeannine Rowe, Professor Roger Yin, and Assistant Professor Haijian Sun, and involves faculty from the departments of social work, computer science and information technology and two colleges: the College of Letters and Sciences and the College of Business and Economics.
The seniors, who were recruited through visits to centers in Adams, Milwaukee, Waukesha and Wood counties, live in Wisconsin, are 60 or older, and use one or more medical devices connected wirelessly to the internet. Students conducted interviews with 42 older Wisconsinites via Webex, with the seniors deciding whether the interview would be voice only or voice and video.
UW-Whitewater students Malayna Oswald, a graduate student pursuing a Master of Social Work from Grafton, and Kathleen Rocco, an undergraduate social work major from Bartlett, Illinois, have been conducting and then transcribing the interviews during the study.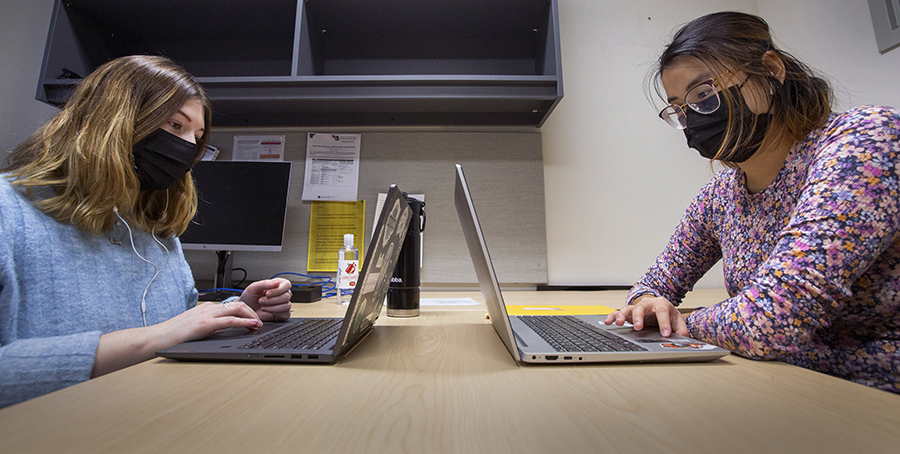 Kathleen stressed the value of working with students from different fields of study during the project.
"The best part about working in an interdisciplinary research team is that there are people coming from different educational backgrounds, and I am learning something that I would not have gotten the opportunity to work with if I only worked with social work majors."
Malayna has been conducting research with Rowe for three years, first as part of the Research Apprenticeship Program and then as a research assistant in the Undergraduate Research Program.
"Interviewing older adults for this project has allowed me to get a glimpse into their world, specifically about how they view and use technology," said Malayna, now a graduate assistant. "The value in interviewing more than 40 older Wisconsinites was hearing the variety of responses to the questions I asked. There is so much to learn from older generations, and I'm grateful for all the opportunities I've had to engage with older adults over the past three years."
Preliminary findings from the interviews indicate that smart medical devices are generally used to manage chronic health conditions or improve overall health. Information-sharing is a common practice — many participants report sharing their personal health information collected by SMDs with their healthcare providers, family members or friends. Few participants report that they read or understand the privacy statements of their SMDs, and participants are in general not very concerned about the transmission of their personal health information and the possibility that it could be accessed by individuals other than those intended. In short, personal health information was not viewed as needing the same level of protection as a social security number or a bank account number.
Jeannine Rowe, a professor of social work who specializes in gerontology, oversaw the students in their interviewing of the older adult participants.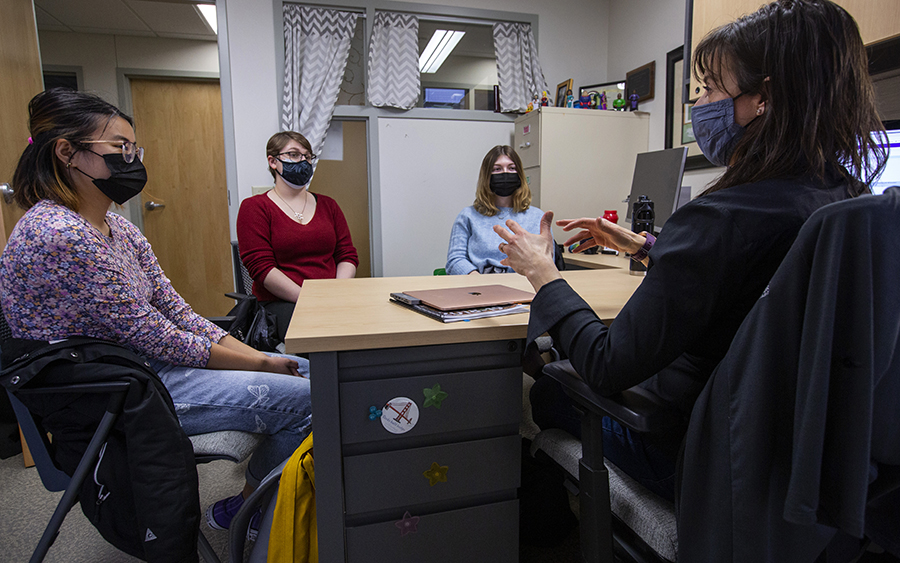 "Smart medical devices are fantastic tools," said Rowe. "Yet many older persons who adopt these devices have limited knowledge about how they work and how their information is collected, stored and used. This project is one of the first that attempts to understand how older persons — specifically older Wisconsinites — use their smart medical devices and examine their understanding around the privacy and security of these devices."
Students will use data from the interviews to affirm what they see in the labs, according to Zhou, the principal investigator for the study.
"Older adults sometimes have no clue about these devices, and it can put them at risk of ID theft and cyber crimes," Zhou said.
In the lab, students check and decrypt some of the traffic on the devices, find out what kind of data is collected, and review the privacy notices.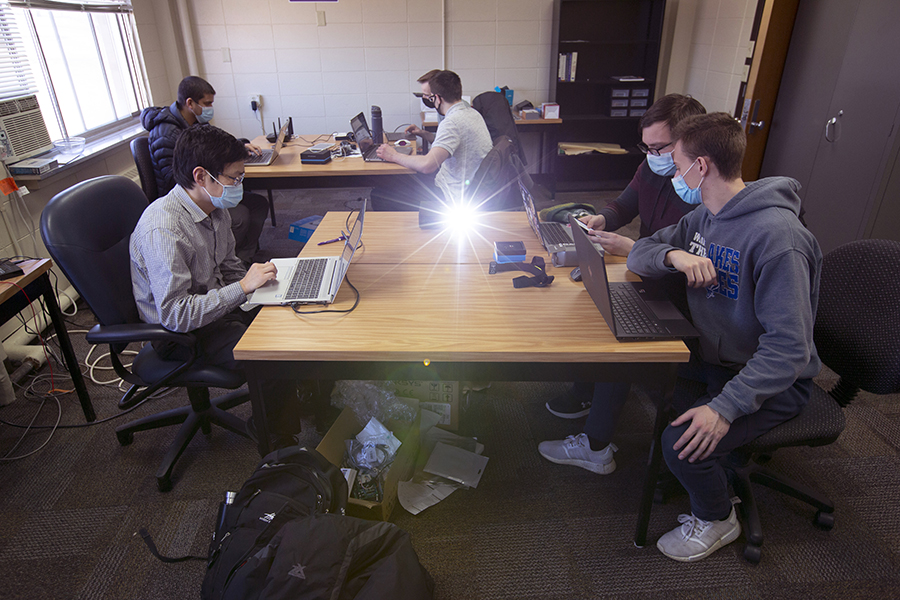 After compiling the data and analyzing the results of the interviews, the research team will prepare and deliver their findings, targeting audiences that include health care providers, regional and national conferences, and state legislators.
"The results of the interviews and lab experiments will be used to study improved management, regulation, and standards for privacy protection in IoT devices," said Zhou. This project will help increase awareness of privacy protection among older adults in Wisconsin, motivate better privacy protection by the device vendors, and eventually lead to wider adoption of IoT devices within healthcare arenas and improved quality of life for older Wisconsinites.
For more information on this grant, contact Jiazhen Zhou, associate professor of computer science, at zhouj@uww.edu or 262-471-5172, or Jeannine Rowe, professor of social work, at rowej@uww.edu or 262-472-1162.