From trials to triumph: Hollyn Peterson has big dreams for her future
April 17, 2023
Written by Dave Fidlin | Photos by Craig Schreiner
As a child, Hollyn Peterson faced a very uncertain future. As she battled cancer, she missed a significant portion of school to undergo life-saving treatment, and the question of whether she would even be able to continue her education hung in the balance.
Today, the three-time cancer survivor is earning a Bachelor of Fine Arts with a painting emphasis from the University of Wisconsin-Whitewater, not only overcoming the obstacles before her in her formative years, but flourishing as a young adult with big dreams for the road ahead.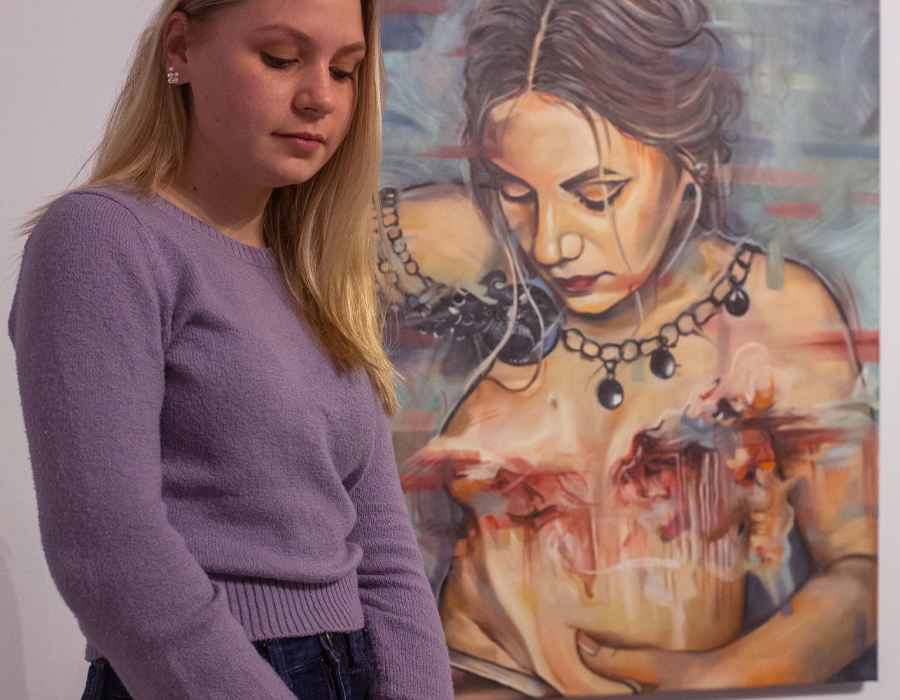 She will share her inspiring story as commencement speaker for UW-Whitewater's spring 2023 commencement ceremony at 10 a.m. Saturday, May 13.
While inner perseverance has been a key component of Peterson's successes, the Waukesha West High School graduate said a number of important people and programs have helped her get to where she is today. Looking back at the pivotal decisions she faced upon high school graduation, Peterson said she was not certain she would pursue a bachelor's degree at a four-year university.
"I had a hard time visualizing myself at college," Peterson said. "I had visited some universities, but none of them felt right for me until I visited Whitewater. When I visited there, I thought, 'I could see myself going to school here.'"
Peterson credits UW-Whitewater's Center for Students with Disabilities with giving her the tools to move forward and make the transition into a four-year university as she continued to treat and manage her health. Advisors within the center helped her pick out classes and ensured she had the necessary accommodations toward a pathway of success.
As she settled into UW-Whitewater's Department of Art and Design within the College of Arts and Communication, Peterson said the entire faculty were instrumental in helping her chart her future path in life. She specifically singled out Professor Teresa Faris, Associate Professor Jared Janovec and Associate Professor Greg Porcaro.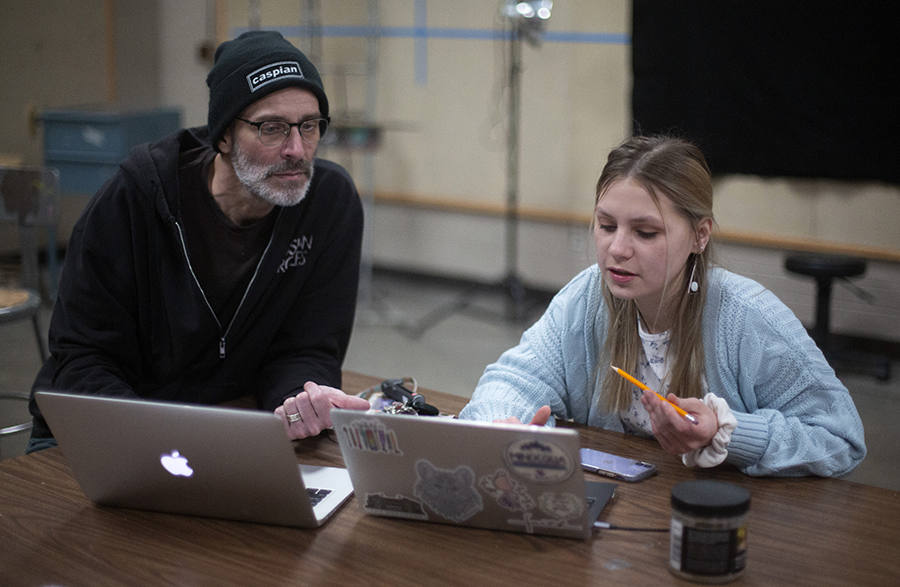 "There were some professors who supported me — not just as an artist, but as a person and in my personal life as I was going through things," Peterson said. "They were very flexible, education-wise, but they also provided me with emotional support."
Throughout her time on campus, Peterson has been involved in a number of extracurricular activities, including the UW-Whitewater Dance Company, where she has served as vice president, and InterVarsity at UW-Whitewater's welcome team. Additionally, she has been a member of Latinos Unidos and the Campus Assessment, Response and Evaluation Team, also known as CARE.
Peterson is earning a separate teaching certification, which is helping her launch into the next chapter of her life. Until recently, she concedes, teaching was not a top-of-mind professional pursuit because of the challenges she faced as a child.
"I was always so behind. I hated it. I was so embarrassed," Peterson said of her K-12 experience. "I wanted nothing to do with education."
The positive experiences on the UW-Whitewater campus, however, prompted her to seek it out. It also gave her an opportunity to come to terms with some of the challenges she faced in her younger years.
This past semester, Peterson has been a student teacher at elementary schools in the School District of Waukesha. When she wrapped up her student teaching stint this spring at Waukesha's Rose Glen Elementary School, Peterson had a cathartic moment that brought closure to past pain and disappointment.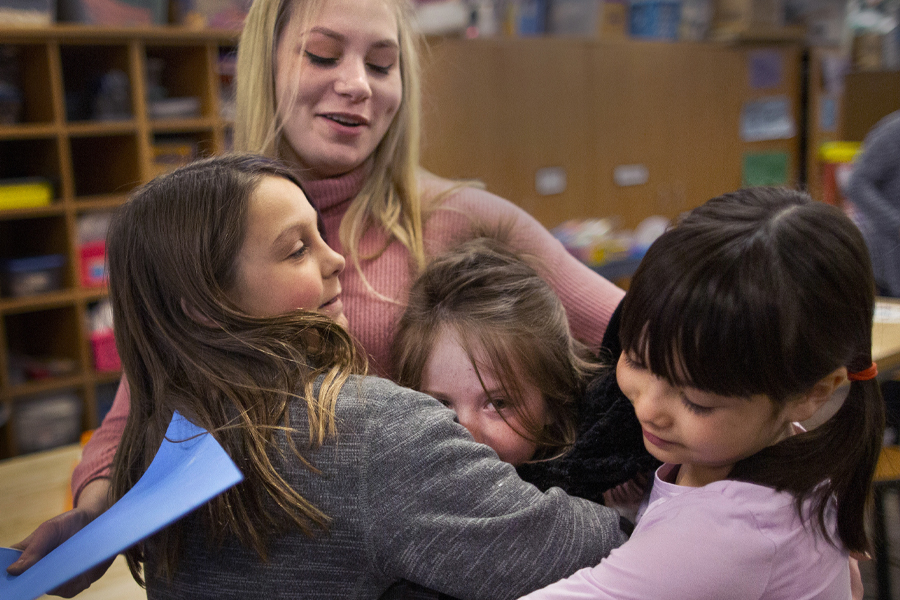 "I honestly broke down in tears because the kids were giving me hugs," Peterson said. "It healed a part of that inner child. It ended up going full circle and turned out to be something that I really needed. The staff there told me I changed the students, but I felt like they changed me more than I made a difference on them. It was a very rewarding experience."
After graduation, Peterson is moving out east to attain a Master of Fine Arts from Syracuse University in Syracuse, New York.
"The reason I chose Syracuse is similar to why I picked Whitewater," Peterson said. "I immediately connected to the staff and faculty there and saw how much they're willing to work with me."
In addition to furthering her studies in a field she is passionate about, Peterson has been given an opportunity to teach a figure drawing class, which is rare for an incoming master's student.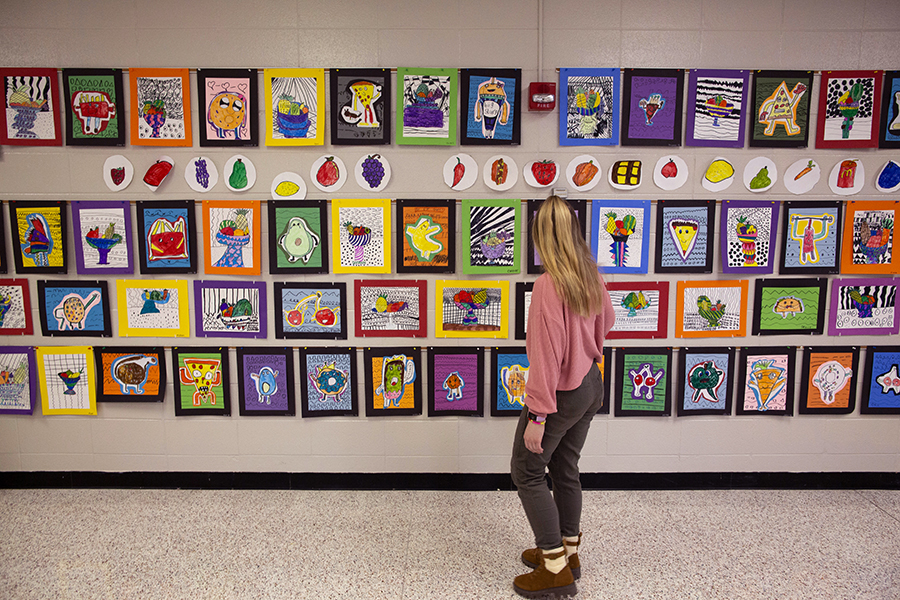 "It's a great program, with great staff. I really love the campus," Peterson said. "It was a really easy decision, just like Whitewater. Everything just fell into place."
As she looks back on her time at UW-Whitewater, Peterson said she is overcome with gratitude for the many people who have helped her achieve success and view her challenges through a different lens.
"It's been interesting to see how things ended up," she said. "I am very curious to see how the next three years will go at Syracuse."
View Hollyn's work and learn more about her story at her website.