David Welsch
April 28, 2021
Written by Craig Schreiner | Photos by Craig Schreiner
David Welsch, a professor of economics at University of Wisconsin-Whitewater, talks about discovering economics as a means of studying the choices people make using mathematics. It was an "Aha" moment he had as a student.
"I was thinking about being a political science major but I also was interested in physics because I enjoyed math and how things work," said Welsch. "And I took my first economics class and thought, 'This is a combination of the two, right? So this is what I want to do.'"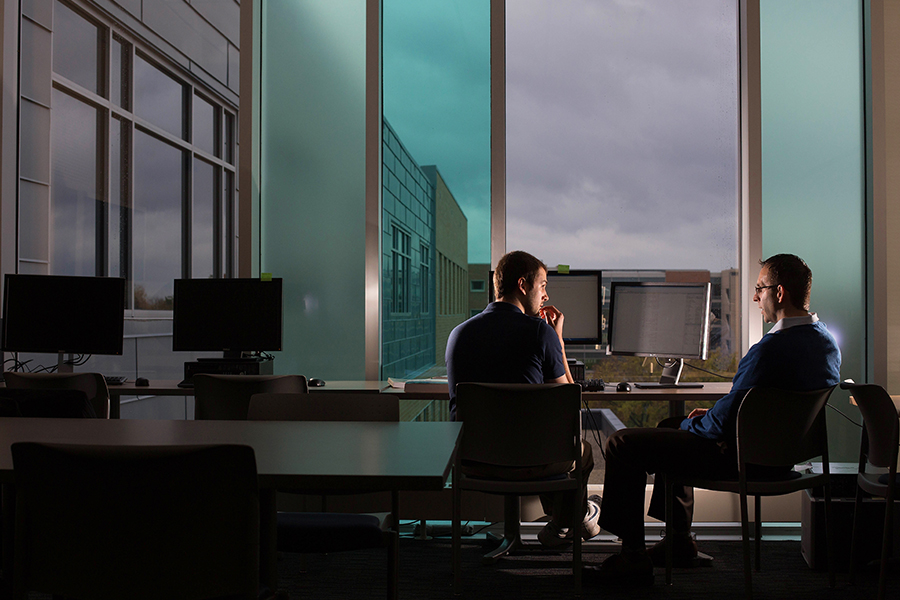 As an academic, Welsch focuses on the impact of people's choices and behavior. His research on education policy includes a study that showed correlation between early childhood programs and higher math scores.
"All of us in the social sciences deal with people," said Welsch. "So even if you're looking at inflation, there's people involved in that. I (report on) education policy. There's the economics of crime," he added. "There are even economists who are studying marriage markets (how people choose a partner and how the marriage affects future choices)."
Recently, he published a study on the relationship between wearing face coverings and COVID-19 deaths that was highlighted in "How to prevent more COVID-19 deaths? It's as simple as more mask wearing, according to UW-Whitewater study." In the study, Welsch concluded that the lives of six people might be saved in the average county in the U.S. if the number of people who wear face coverings within six feet of others increased by a single percentage point.
"Showing that masks can reduce COVID-19 deaths is the most important outcome (of the study)," said Welsch.
Welsch's hope that the power to save a life will move the needle in terms of wearing face coverings gets to the heart of what brought him to economics.
And when Welsch talks one-on-one about econometrics, you feel the presence of a scholar — one who received the 2021 UW-Whitewater Outstanding Research Award.
At the same time, Welsch relates to the many Warhawks who are first-generation college students. In Welsch's immediate family, only one grandparent attended college.
"I don't know if I'm technically a first-generation college student," said Welsch with a smile. "But I think I can relate to (them) better. I enjoy the first-generation students and the quality they bring as people."
"Those students are my kind of people," Welsch added.
WHY I TEACH is a series about the dedicated professionals at the University of Wisconsin-Whitewater, including professors, coaches, advisors and other staff members, who make every day a teachable moment — and every place a learning place — by their expertise and example.