Our Student Assistants
Grace Jezuit
Department: Administrative Affairs
My name is Grace Jezuit and I am currently pursuing a degree in both Marketing with an Emphasis in Digital Marketing, as well as HR management. I hold the position of Administrative Affairs Student Assistant, which means I help the Vice Chancellor set up her daily meetings to run as smooth as possible. In addition to this, I work on many seperate projects, such as gathering information and creating spreadsheets for record keeping. On a more personal note, I am a part of the student optimist club here on campus where I hold a position on the executive board as the public relations manager! I enjoy volunteering at these events that we create for the community to enjoy.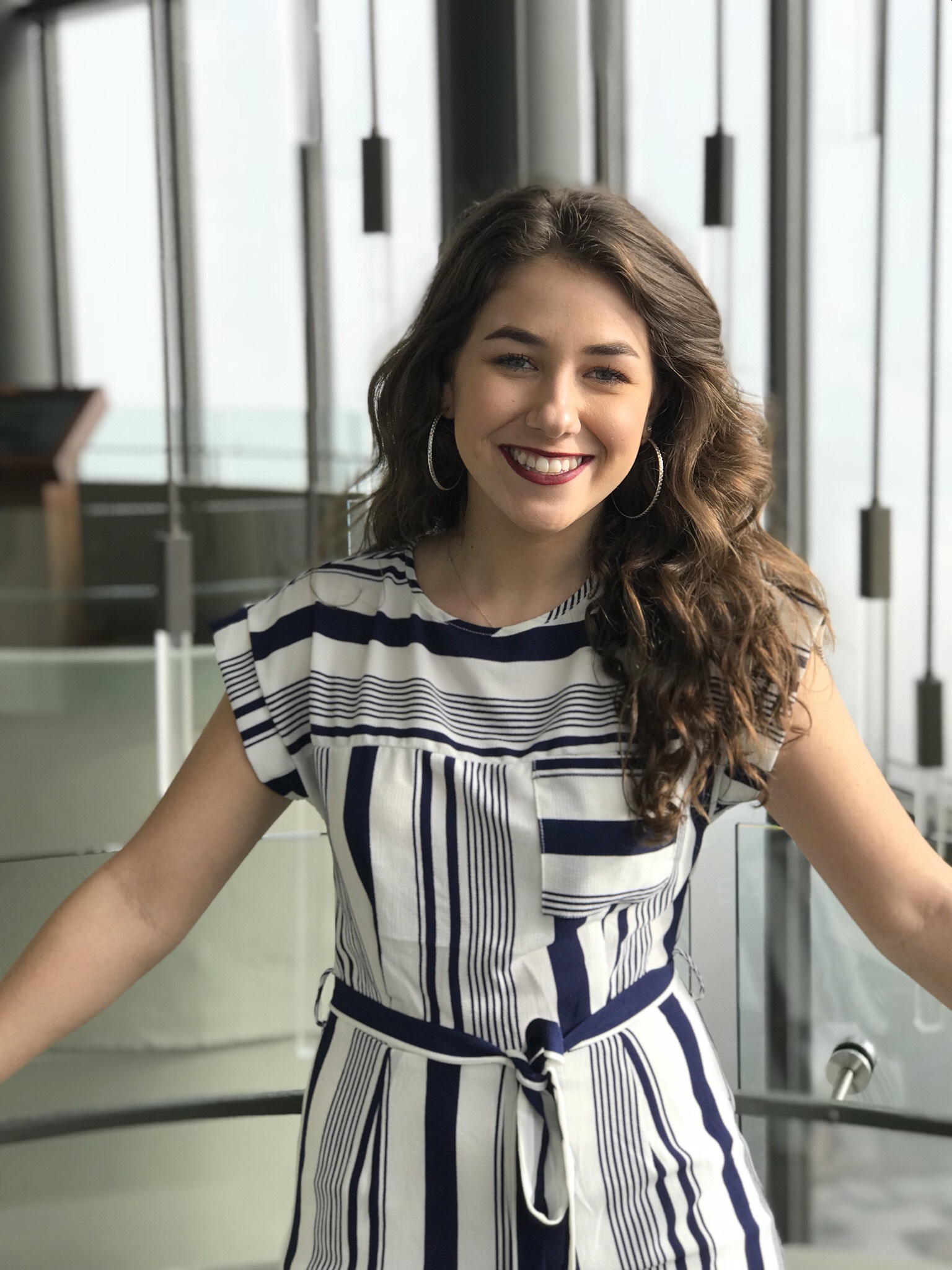 ​
Grace Sinclair
Department:Administrative Affairs
Hello, I am Grace Sinclair and I am a Political Science Major with an Emphasis in Legal Studies. My job here consists of working on policy directives and procedures for UW-Whitewater, staying updated on University, System and Regent policies, as well as a variety of compliance tasks. This fits well into my career path as I am hoping to go to Law School after graduation and become an attorney! I am originally from Green Bay, WI and will be graduating in May 2021. On campus I am the President of my sorority, Sigma Sigma Sigma, a Peer Mentor, and the Panhellenic Council Academics Chair!
Tom Kind
Department: Administrative Affairs
My name is Tom Kind and I am an MBA graduate student from Sheboygan, WI. My undergraduate degree was in General Management with the Non-Profit Emphasis. In the last two years I served as the Student Body President, becoming the fourth in the University's history to do so. I am a founding father and now an Alumnus of Phi Delta Theta Fraternity in Whitewater, and this fall I will be an advisor to Homecoming. I enjoy spending time with my family outdoors at our farm and cottage. I enjoy reading articles and books on leadership & management and I strongly believe in the notion engrained in this university to Put People First. This Summer my work is to help draft and create plans for the
UW-Whitewater Community Engagement Center
. I am drafting the governance processes, assisting in the creation of the strategic plan, working with facilities to purchase and furnish the facility, developing programing and training opportunities to assist our campus and community, and working with internal and external stakeholders to find ways the Community Engagement Center can bridge gaps within our community and surrounding areas.
Former Student Assistants
Amber Wolfe
Department: Administrative Affairs
I am currently pursuing my master's degree is Science of Education and Professional Studies with an emphasis in Higher Education Leadership here at UW-Whitewater. My anticipated graduation date is December 2019. After I graduate, I hope to pursue a career as an academic adviser at a university in Wisconsin. I started with the Administrative Affairs division in November 2018 and I have assisted primarily with administrative support and miscellaneous projects. I have been involved in numerous projects including: creating a financial plan for the university, developing a marketing budget report, tracking key performance indicators, generating updated delegation of authority letters, developing a tracking system for all received and signed documents in administrative affairs, analyzing employee talent resources, and participating on the innovation team to develop a disability employment forum. I also assist with managing the calendar for Vice Chancellor Administrative Affairs, Grace Crickette. In addition to providing administrative support, I have been involved with the onboarding of seven new student employees and developing a training process for new student employees. In my free time I enjoy hiking, biking, shopping, watching Netflix, and spending time with my family and dog. I am thankful for the opportunity to be part of the Administrative Affairs team as I have further developed my leadership and communication skills.
Bradley KrusiecDepartment: Risk ManagementMy name is Bradley Krusiec, and I'm a senior here at UW-Whitewater. Being an occupational health and safety major, I've been in the risk management department over the last year now. My tasks include updating the safety data sheet (SDS) database and updating the chemical log database. As part of the Safety Academy, I publish a Safety Newsletter bimonthly and a Safety Poster monthly covering topics relevant to the season. I'm also tasked with the "Warhawk-Ready" program, which is a Kauli-based program designed to give University departments a physical document for disaster-preparedness protocols. I first was introduced to the safety field during my time in construction, as a United States Navy Seabee. While not well-known, Navy Seabees are a militarized construction force that assist in disaster-relief operations around the world. I enjoy my time working with everyone in Administrative Affairs and look forward to becoming a safety professional!
Cody Sellhausen
Department: Administrative Affairs
My name is Cody Sellhausen and I am currently pursuing my bachelor's degree, majoring in both Accounting and Information Technology with an emphasis in Data Analytics, here at UW-Whitewater. After I graduate, I hope to acquire my CPA license and begin working in a public accounting firm. I started working with the Administrative Affairs division in April of 2019, where I hope to make advances in my communication, leadership, and problem-solving skills. When I am not working or studying for classes, you can find me training at the gym, assembling some new electronic, or in the kitchen concocting a new recipe to share with friends.
Elliot TorrenceDepartment: Administrative AffairsMy name is Elliott Torrence. I am a Senior majoring in Political Science and minoring in Public Relations. I'm from Milwaukee, WI, where I attended Morse-Marshall High School. I currently serve the campus in a variety of ways. I am the Polemarch (president) for the Pi Omega Chapter of Kappa Alpha Psi Fraternity, Inc. I serve as the Director of Public Relations and Marketing for Whitewater Student Government and as the Publicity Director for UWW Gospel Choir. I also work as the Communications Assistant for the Administrative Affairs office.
Joshua SavageDepartment: BudgetMy name is Joshua Savage and I am pursuing a degree in Finance with an emphasis in Financial Planning and minoring in Information Technology. I began with Administrative Affairs in April of 2019 and I plan to graduate in spring of 2021. My major role here is to assist the Budget staff with various budget related projects. One major project I assisted, is the 2018-2019 yearly Budget Book! I also work with the Administrative Affairs team to update various sites on the Administrative Affairs Website! Outside the office, I am a huge sports guy. My favorite would be basketball, especially around March Madness season. After I graduate, I plan to advance my career into the financial services industry.
Laura Malotky
Department: Administrative Affairs
My name is Laura, and I'm currently pursuing my master's degree in professional accountancy here at UW-Whitewater. I started working with the Administrative Affairs division late June, 2018. I have had the opportunity to work on many different projects in the few months I have been here. I am constantly working close with all of the division heads under Administrative Affairs, and work closely with the Vice Chancellor of Administrative Affairs. I have also had the opportunity to work with many individuals during this time and learn more about their backgrounds and life experiences, and that is something I always enjoy learning and hearing about. Additionally, this position has helped me develop my written and oral communication, which will be beneficial in the future as a CPA!
Mariah Sprain
Department: Administrative Affairs
I am pursing a bachelor's degree in Finance with a minor in Information Technology. I have been very active around campus, I was president of Circle K International this past year (2018-19), along with an Assistant Coach with the Women's Wheelchair Basketball Team on campus. I have been involved with Circle K International and Wheelchair Basketball for the past four years.My main role in Administrative Affairs is to create animated training videos, using a program called Vyond. I assist with other projects, such as: creating and maintaining a
webpage
for my videos, updating the "Our Student Assistants" webpage, collecting information from campus members and creating a document explaining how the university benefits the community, along with any other projects assigned. I enjoy learning new concepts and ideas to further my comfort zone.
Megan Martin
Department: Administrative AffairsMy name is Megan Martin. My major is Public Policy and Administration and I will be graduating in December of 2019. After college, I hope to find a job working on education policy and eventually run for an elected position. I began working for the Administrative Affairs Office in January of 2019 and have learned a lot about myself, as well as the importance of the Administrative Affairs role on campus. Besides my position as a student assistant, I am also chair of UWW College Democrats, have been a peer mentor for two years, and serve as an off-campus senator for Whitewater Student Government. When I'm not studying, in a meeting, or at work, I am watching Netflix, running, or watching dog videos.
Mikayla Medina-Stewart
Department: Budget
My name is Mikayla Medina-Stewart and I am a senior at UWW majoring in finance with an emphasis in financial planning. I am currently involved in Gamma Alpha Omega sorority Incorporated as well as a general member of the black student union and Latinos Unidos. I started working at the budget research and analyst office In May 2018 and my title is budget student. I have worked on various projects where I separate revenues and expenses by account, department, and fund. I then give the completed work to my bosses and they make budgets for each department on campus. This job has taught me a lot about paying attention to detail and accuracy. I plan to use the skills I've gained here to advance in my future career.
Nayeli Govantes AlcantarDepartment: SUFACI am a proud second-year Warhawk majoring in accounting and finance. I was born in Mexico and raised in Janesville, Wisconsin. I am a determined learner who works well in a diverse environment. As a curious individual, I love to explore all sorts of cultures and meet people of all backgrounds to learn important life lessons. I am a communicated individual in three languages searching to gain more cultural experiences. Trying new things and stepping outside of my comfort zone is always fun. When I am not studying or participating in organizations on campus I love to spend time with my family.Favorite Quote: "Minds are like parachutes, they only function when they are open." - Thomas Dewar.
Paul HillDepartment: Risk ManagementHello, my name is Paul Hill, I am a senior majoring in Occupational Health and Safety at the University of Wisconsin Whitewater. I enjoy being outside while the weather is nice and experiencing the outdoors rather it is camping or just a walk through a park. I have currently been a worker in the Safety academy in the risk management depart here at UW-Whitewater for the past few months. The experience has furthered my knowledge in safety and I am excited to see where the future takes me.William EdwardsDepartment: Administrative AffairsMy name is William Edwards and I am a senior pursuing my bachelor's degree in Finance at UW-Whitewater. I started working with the Administrative Affairs department in June of 2019 and am excited to strengthen my skills in communication and leadership while I work in the Administrative Affairs department. I have been working on spend analytics of new programs established at the university, along with reviewing incoming program proposals that still need approval. I look forward to graduating in 2020 and starting my career in finance.
William Rosales
Department: Administrative Affairs
I am currently a sophomore here at UW-Whitewater, majoring in psychology and minoring in Spanish. Originally, from Waukegan, Illinois where I graduated from Warren Township High School. After graduation, I attended college in Michigan for a year then transferred to UW-Whitewater. Here at Whitewater I am currently Activities Coordinator for Latinos Unidos and attend other organizational meetings regularly. Another title I have held since the start of the fall 2018 semester is the Process Improvement Assistant for the Administrative Affairs office. Since beginning this position, I have benefited from the continual development of both my technical and non-technical skills.
Yvette ArenasDepartment: Administrative AffairsHi, my name is Yvette Arenas. I am currently pursing my Bachelor's degree in biology. After graduation, I hope to attend medical school. I am involved in Circle K International, a volunteer organization on campus. I love to watch TV shows, read, and spend time with my family and friends. My position in Administrative Affairs is to support the Vice Chancellor in her daily responsibilities. I communicate with her to effectively and accurately manage her work and social calendars. I also assist in any assigned projects. For example, researching data concerning service-level agreements and organizing a campus-wide venture.
Zach Klotz
Department: Administrative Affairs
My name is Zach Klotz and I am a junior studying political science and legal studies. I plan to attend law school after graduation, with the goal to serve in the Air Force as a JAG Officer. Outside of the classroom I serve as the Director of Academic Affairs for the Whitewater Student Government, and I am also a proud member of the Phi Delta Theta Fraternity. I am from Oak Creek, WI. Here are some things I have been working on during my tenure in the Administrative Affairs Office:
Drafting new practice directives and procedures to reduce costs and increase efficiency across campus. Most recent topics include: sustainable fleet vehicles, green cleaning, employment travel authorizations, duel enrollment, records management, and outside activity reporting.
Supporting our campus's Process Improvement Advisory Team through research, data collection, and administrative tasks.
Conducting research on various topics.
Tracking policy updates on the UW System level and updating campus website to notify campus of changes.
Assisting the Sustainability Office with research and brainstorming new sustainable goals our campus could achieve.