UW-Whitewater lands $9.1 million grant to help transform state's behavior health system
August 04, 2022
Written by Dave Fidlin | Photos by Ann Stadler and Craig Schreiner
Since its inception five years ago, the University of Wisconsin-Whitewater's Center for Inclusive Transition, Education and Employment (CITEE), a department within the Division of Student Affairs, has been working to help people from all walks of life as they explore education and career opportunities. A new, sizable grant will help in furthering that mission.
Governor Tony Evers and the Wisconsin Department of Health Services have announced the center will be awarded approximately $9.1 million through the American Rescue Plan Act to enhance an existing Qualified Treatment Trainees (QTT) grants program.
The program supports placements for behavioral health professionals with a training license who need hours of observed practice for their full license. Trainees are able to provide clinical care under supervision, and these supervised hours are a requirement for clinicians to become fully licensed treatment providers.
Jessica Smith, the center's director, said the grant will have a notable impact on the program's ability to address the workforce shortage in this industry and will have a ripple effect for organizations offering behavioral health services across the state. Grant recipients will be able to hire more qualified treatment trainees and thereby serve more clients, addressing waiting lists for care.
"Historically, there hasn't been a lot of emphasis on developing trainees in the area of supervision," Smith said. "We know that high-quality supervision can support trainees' clinical skill development, and we hope it will also promote their longer term success, retention as clinicians, and also support supervisor satisfaction. Ultimately, it will help the clients that they serve by providing them with the best treatment available."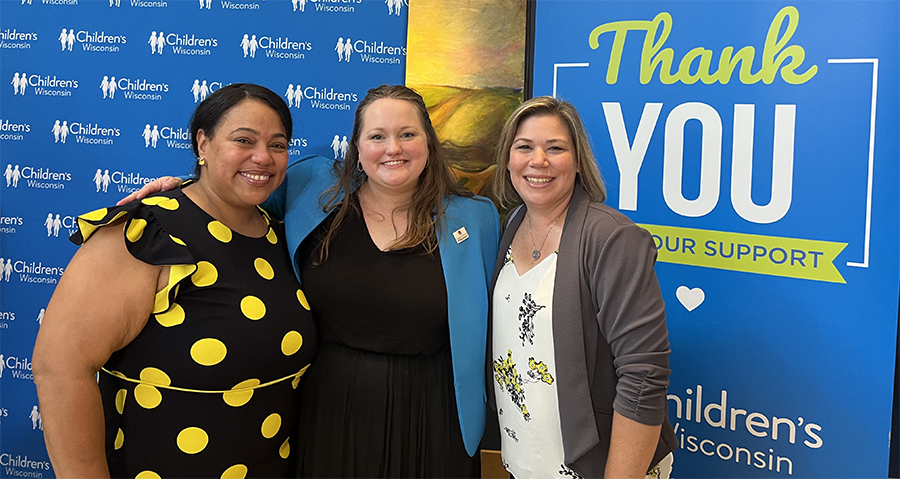 Smith said the new award will help people on and off UW-Whitewater's campus.
"This will bring tons of opportunities for students," she said. "It's a great time to be going into social work, counseling or marriage and family therapy."
Dr. Lakeia Jones, chief executive officer and director of Milwaukee-based AMRI Counseling Services, has worked with the center in the past via its QTT grants program.
"When I came across this program, I was so excited to be a part of it. It's been a great opportunity to connect with other supervisors at other agencies and work together to provide supervision to students and supervisees," said Jones, a UW-Whitewater alum who has been in the behavioral health field for 22 years. "Clinical supervision is extremely important. If you don't have anybody providing that kind of work, you end up having individuals in the field without any type of guidance or direction."
Adah Muwonge, who is graduating this month from UW-Whitewater with a master's degree in counselor education, had the opportunity to intern this spring at AMRI Counseling Services. She has been hired before graduation for a counseling position within the agency.
Speaking to the hands-on training she received through the Qualified Treatment Trainees program, Muwonge, of Milwaukee, said, "This has put me in a place to really understand and learn more about myself and my needs and what I want to do in the future. There's been a lot of self-exploration throughout this summer."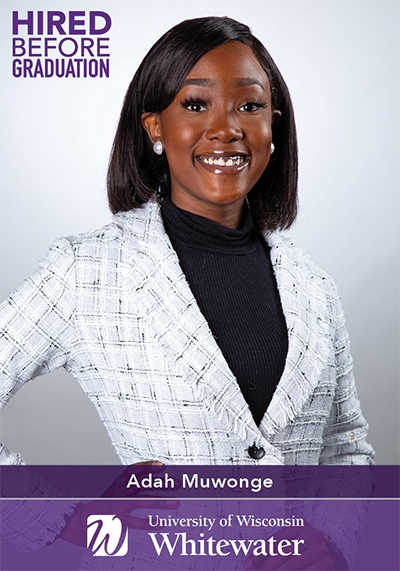 Muwonge, who also holds a bachelor's degree from UW-Whitewater in psychology, said the experience she has gained in the field has only solidified the course she has embarked on since first walking onto the university campus seven years ago.
"Now I really know, it's for me," Muwonge said. "I'm learning where I can fine tune my own personal practice and the way that I counsel in the future."
A hallmark of UW-Whitewater is to ensure people from all racial, ethnic and socioeconomic backgrounds have an opportunity to receive an education and pursue their career goals. Directing funds toward such efforts as the QTT grants program is another means of furthering that mission, Smith said. With diversity, equity and inclusion in mind, Smith said the grant will help in one area that has been a challenge in the past.
"The intention is to remove the barriers that people might have, particularly because we know that graduate students are frequently asked to do their placements or internships unpaid," she said. "It certainly is a challenge for many people, particularly if we want to diversify the workforce."
Part of the grant money managed by the center will go toward supporting students directly and developing new educational pathways to behavioral health careers, including a pilot program with UW-Whitewater at Rock County to make it easier for students to move from an associate degree in human services to a bachelor's degree in social work. Additionally, the university will develop a post-master's certificate in treating people diagnosed with both mental health and substance use disorders.
For more information about the Center for Inclusive Transition, Education and Employment or the QTT grants program, contact Jessica Smith, research program director, at 262-472-1706 or smithjl@uww.edu.