First graduates of unique UW-Whitewater at Rock County bachelor program to cross the stage this May
May 10, 2023
A program designed to provide working adults with technical college credits a pathway to a bachelor's degree will see the first cohort of graduates in several years cross the stage on the UW-Whitewater campus on May 13.
Developed by the UW-Whitewater's Rock County's College of Integrated Studies, the online Bachelor of Applied Arts and Sciences offers a flexible degree completion pathway for students who hold an applied associate degree from a technical college. The BAAS degree was offered at many of the two-year campuses in the UW Colleges system, according to Tricia Clasen, dean of the College of Integrated Studies, but all campuses stopped enrolling new students in the program when the colleges were restructured in 2017.
"Everything paused during the restructuring," said Clasen. "As far as I know, ours is the only campus to reinstate the program, which we relaunched in fall 2021 after redesigning it to have emphases that are most relevant to today's workforce needs."
In addition to emphasis areas in digital marketing, professional selling, leadership, criminology and human services, a personalized emphasis allows students to design their own emphasis area. Internships and credit for prior learning help shorten time to degree completion.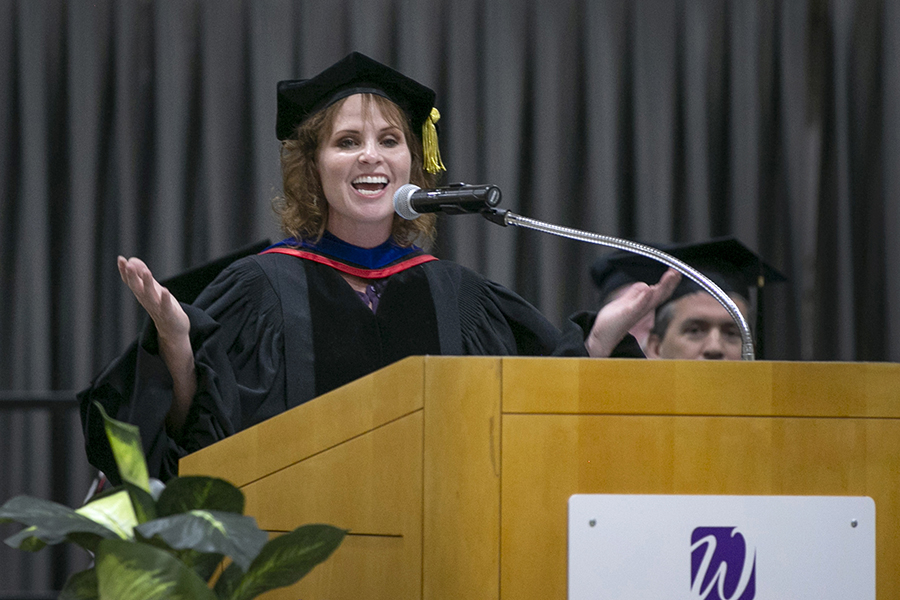 Clasen says the degree serves many purposes.
"We know that many students out there need a bachelor's degree to be able to gain certification. Others need it for advancement or to qualify for a raise. And, for some, it's a gateway to earning a master's degree."
She adds that the flexibility of the program is key for working adults who often face multiple challenges including family demands.
"So many working adults have some college credits but no degree, sometimes from multiple institutions. With other degree completion programs, students often feel like they are starting over again. Our advisors work very hard to take in as many credits as possible."
In addition to intensive, hands-on advising that often requires a deep-dive into multiple transcripts and involves faculty from both the Rock and Whitewater campuses, Clasen highlights the effort to create emphases that were relevant to working professionals and redesigning courses to be relevant to real-world situations. For example, they designed a statistics course that's applied and an online lab science course that focuses on human diseases.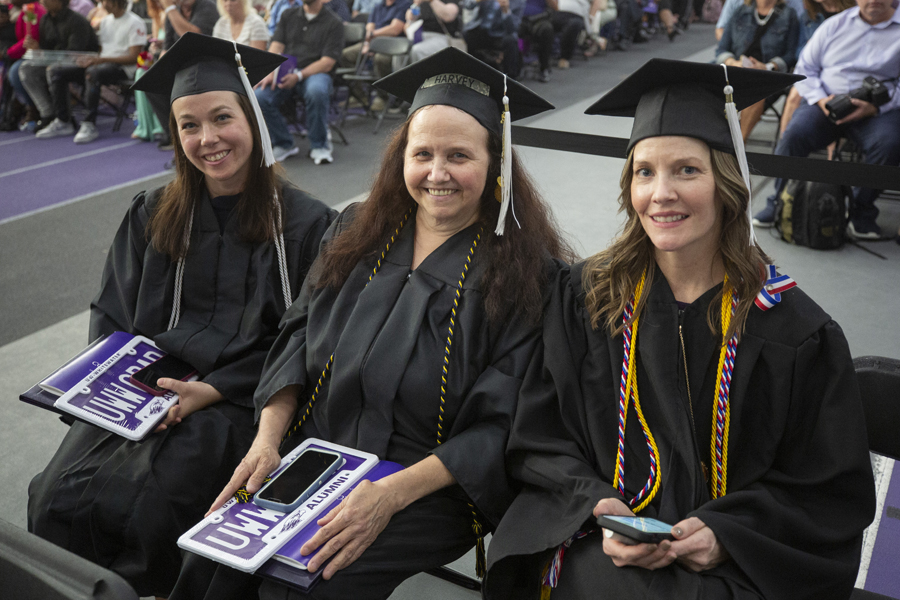 A path to bachelor's degree… and graduate school
Current enrollment in the fully online degree program is 41, and six graduates will earn their degrees this May. One of those to do so is Amy Moore, veterans services coordinator at UW-Whitewater, who is earning a BAAS with an emphasis in leadership.
Moore, a native of Chippewa Falls, joined the Navy after graduating high school and used her military benefits to earn an associate degree from Chippewa Valley Technical College.
"I never planned on getting a bachelor's degree. The associate degree was enough to get me my dream job, which was working in veterans services on a college campus."
Moore, who has worked on the Whitewater campus since 2019, also raised four children as she worked full time. As her children left home and some looked as if they might to settle down in other parts of the country, she initially looked into earning a bachelor's degree to be able to more easily find a job in veterans services in another state.
"With the Wisconsin GI Bill, I could have gone to any school in the UW System. I looked at every college's online programs to see where I could get the biggest bang for my buck. Whitewater won hand over fist. The program transferred 100 credits from my joint service transcript and my associate degree. I only needed 47 more credits to graduate, but added one more credit to earn summa cum laude."
With all four children located in Wisconsin, the plan is now to use the bachelor's degree to be a substitute teacher when she eventually retires from her veterans services position.
And Moore is not done learning.
"I had so much fun, I applied for the master's program in higher education leadership at UW-Whitewater, and I start my first class in the fall!"
A lack of degree hampered job search
May graduate Nicole Brandl found the lack of bachelor's degree to be a barrier after she lost her job during the COVID-19 pandemic.
"I applied to several positions online without any response," said Brandl. "After doing some research, I learned that the algorithm behind the online job platforms was rejecting my application due to the box not being checked for a bachelor's degree, despite my years of on-the-job experience. Because of this, I decided to apply to UW-Whitewater to finish my degree. After working through my previous credits and my end goal, my advisor suggested I apply to the BAAS program."
Brandl, who lives in Clinton and works in sales at PlayMonster Group in Beloit, was able to apply the credits from a previous associate degree in marketing to a BAAS with a personalized emphasis that blends coursework in business, communications and leadership.
"Honestly, I most likely would not have pursued my degree if it wasn't for UW-Whitewater," said Brandl. "I wanted my degree to come from an accredited, prestigious business school, and that was Whitewater."
Ready to put new skills into practice
Another nontraditional student to earn a BAAS degree this May is Laurie Harvey. Harvey, who lives in Elkhorn, lost her son Scotty to a drug overdose.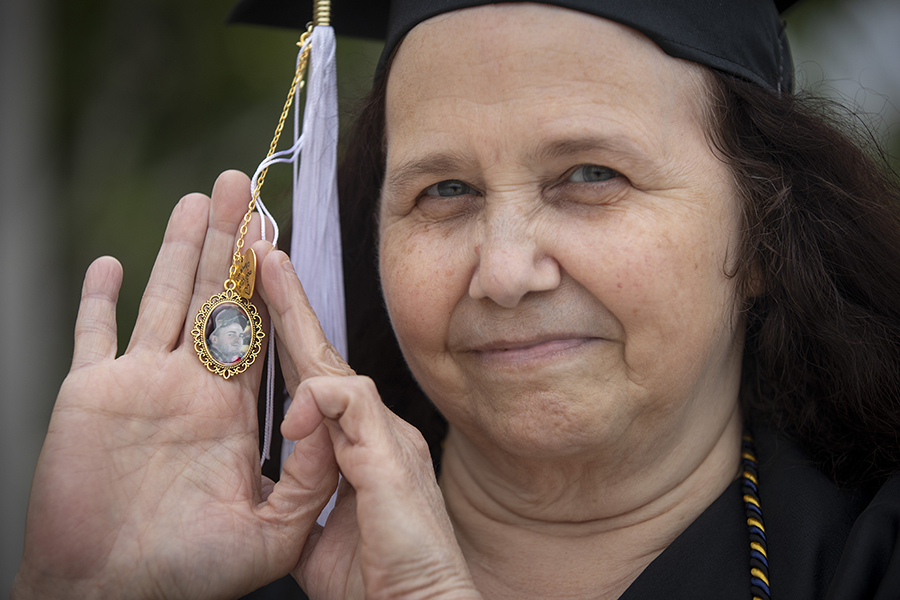 "When my son died, he had been struggling with drugs for years," said Harvey. "There was never any help for him in Walworth County, and no support for families. He was the best kid, and the only person he was hurting was himself."
Her son served two stints in prison for theft to support his addiction, and she found him after he overdosed just 10 days after his latest release. She sought to turn the anger and helplessness she was feeling — and still feels — into doing something.
Harvey, who has also been taking care of a grandson with special needs for 20 years, used the credits she'd earned in an applied associate degree in special education from Gateway Technical College to apply to the criminology emphasis in the BAAS program.
"I thought I might be able to learn enough to be able to talk to the judge who does drug court to change the policy to better help these people. I am not your traditional college student — I am 62 years old and I never had any intention of going back to school until life struck me with a devastating blow. When I realized that there was a need for change in my community, I decided to try to see if I could make a difference myself."
Now that Harvey has a better understanding of what the courts can and cannot do, she's eager to see if she can make that difference.
"I want to go in there and watch the drug courts and see what's happening. I need to try to make a difference. For my son's sake, I need to try."
For more information about UW-Whitewater at Rock County's BAAS degree program, visit the website or contact Trica Clasen, dean of the College of Integrated Studies, at clasenp@uww.edu or 608-898-5072.