MEDIA ARTS AND GAME DEVELOPMENT
Bachelor's Degree Programs
Making interactive content and engaging with others is at the heart of the Media Arts and Game Development program at UW-Whitewater — or MAGD, as we call it on campus.
This degree combines classes from communication, art, music, computer science and other academic areas, and it also provides the in-depth technical education today's media jobs require.
This versatile degree will prepare you to take on a number of roles including multimedia producer, game developer, usability engineer, motion graphics artist, interface designer, 3D artist and animator, and mobile app developer.
What's more, is that concepts and skills learned in media arts and game development can apply to everyday life — and a variety of career paths.
Our program is a collaboration between several departments and programs on campus, and that means the Media Arts and Game Development degree is extremely flexible.
We often see students combine majors, minors and bachelor's degree programs into a unique package targeted just toward their career goals — such as adding the MAGD minor to a degree in computer science , graphic design, electronic media, or film studies.
To help you focus your degree, you'll choose from one of three emphasis areas:
Media Arts
Learn to produce original, creative digital content for interactive computer games, animation, special effects, 3D , motion graphics and more.
Communication/Gaming
Gain practical skills in audio, video , and writing for digital media while also explor ing the role games and emerging technology have in today's culture.
Gaming Technology
Hone the programming and software development expertise needed to work with real-time interactive graphics and game development.
Other reasons to study Media Arts and Game Development at UW-Whitewater:
Choose a minor or second major to supplement your education and expand your career opportunities.
Hear from industry experts at our annual expo; past speakers included designers and studio heads representing games and films such as God of War

,

Baby Driver, Transformers, Madden, Assassin's Creed and more.
Compete for scholarships and other awards, such as the Best in Show Prize at the MAGD Expo or regional game design expos and competitions like M-Dev.
Campus opportunities
As a Media Arts and Game Development major at UW-Whitewater, you can take part in many hands-on learning opportunities, including creator, production, and leadership roles at campus media outlets.
Study abroad and exchange program
We're proud to offer an exchange program with the game development program at HAN University in Holland. Throughout the academic year, we collaborate with HAN students on a team game project and then travel to Holland in the spring to complete the game with them.
Undergraduate research
Many MAGD students participate in UW-Whitewater's Research Apprenticeship Program, or work on their own projects and creations under faculty mentors.
Internships
You have the option to complete an internship as part of the MAGD program, whether it's on campus in the Digital Media Lab or off campus for a media or production company.
Student organizations
GAMED — Game and Media Entertainment Developers — is a student organization for students interested in designing their own games.
The hallmark of GAMED is Game Jams: a "hack-a-thon" type event where students receive a theme on Friday, break into teams and, by Sunday, create a game. This weekend-long challenge allows our students to extend their creativity, build coding knowledge and learn to work effectively in teams.
Other video game development and related campus groups include:
Esports
Anime
Smash Bros.
Gaming Group of Whitewater (board games)
Animation Club
The program includes four dedicated teaching labs — with a combination of PCs and Mac computers and drawing tablets.
Our Motion Capture Studio is open to all students and faculty members and features an Optitrack system optimized just for our location.
The program also has additional equipment and facilities available for student use:
Laser cutter/etcher
3D printer
Large-format printer
Video and audio studios and equipment
We also have a room with gaming consoles that serves as a meeting space for our student organization, GAMED, and our weekend-long game jams.
Game Development jobs: Career success
Our graduates are doing — and making — exciting things. Here are a few positions and organizations recent Media Arts and Game Development majors found after graduation:
Graphic designer – Image 360
UX (user experience) engineer – Concurrency
Community manager – Human Head Studios

(no

w Bethesda)

QA Tester – Raven Software
Game engineer – Filament games
Software engineer – PerBlue
Graphic designer – iCombat Equipment
Operations associate – Bird
Production designer – Obsidian Entertainment
Composer/sound designer – Filament Games
Media Arts and Game Development majors also go on to graduate school, such as at UW-Whitewater's Master of Computer Science program.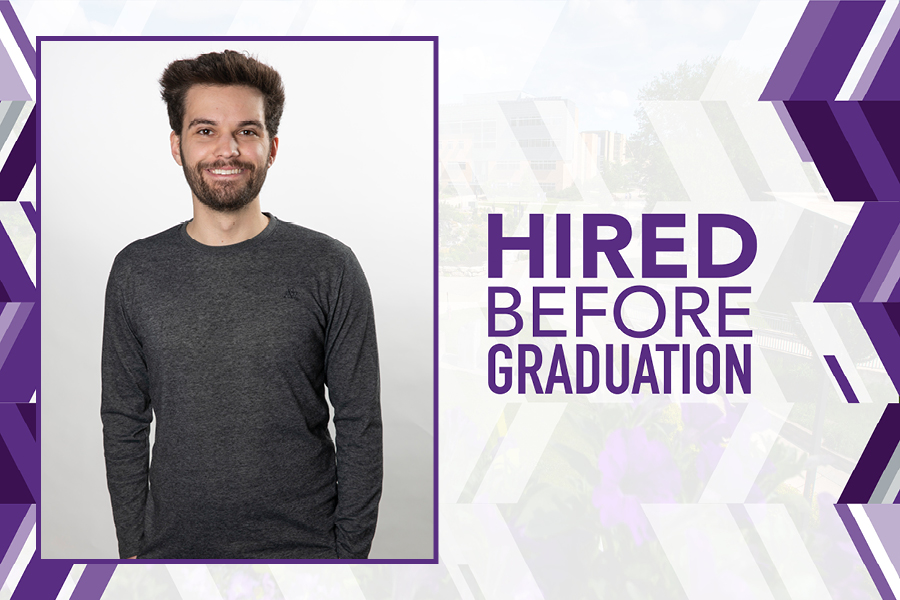 Hired Before Graduation
Dayne Farris, from Janesville, Wisconsin, earned a B.S. in media arts and game development and was hired as a software engineer with Flippfly in Sun Prairie, Wisconsin.
On our Media Arts and Game Development faculty members are from across disciplines and bring a wide range of career and life experience. They're also creators themselves: composers, authors, designers and musicians.
Faculty research interests include:
motion graphics
motion capture in conjunction with 3D modeling
installation work

digital fine art

film and video game soundtracks
game research
Want to learn more about earning a Media Arts and Game Development degree?
262-472-2874 | millera@uww.edu »
UW-Whitewater offers the following Media Arts and Game Development degrees:
Bachelor of Arts — Media Arts and Game Development (emphases listed below)
Bachelor of Science — Media Arts and Game Development (emphases listed below)
MAGD majors can choose from three emphases:
In addition to UW-Whitewater's general education requirements, all Media Arts and Game Development majors will take a set of core courses, including:
Intro to Media Arts and Game Development
Visual Imaging for Digital Media
Drawing for Digital Media
Web Development, Game Development and/or Interactive Communication
Senior Capstone Project

The rest of your required and elective courses will vary based on your emphasis area, personal interests and career goals. MAGD students have access to an incredible amount of courses from across programs and departments at UW-Whitewater, from communication and computer science to art and music. Here are just a few course titles you might explore:
Electronic Music and Sound Design
Intro to Artificial Intelligence
Data Structures
Motion Graphic Animation Studio
Video Games and Learning
Intro to Modern and Contemporary Art
Screenwriting

Game Studies and Design

Technical and Scientific Writing
To apply, you'll complete the UW-Whitewater application for admission and indicate your interest in the Media Arts and Game Development degree.