Welcome to the Department of Politics, Government, and Law!
In today's world of heightened political and social issues and concerns, the study of political science is as popular as ever since it can be applied to such a broad range of meaningful careers.
The Department of Politics, Government, and Law offers a wide range of courses in all areas of the discipline, including American government and politics, law and courts, public policy and administration, comparative government and politics, international relations, political theory, and political science research methodology. Students interested in legal careers may major in Political Science with a Legal Studies Emphasis. The department jointly offers a major in public policy and administration with the Department of Management in the College of Business and Economics. Additionally, the department coordinates the interdisciplinary international studies program. Several minors, including a minor in legal studies, and two certificate programs in paralegal and lobbying studies, are part of the Department's many programs.
CONTACT US
Jolly Emrey
Department Chair & Associate Professor & Prelaw Advisor
Phone: 262-472-1124
Location: Laurentide Hall 5130
Alumni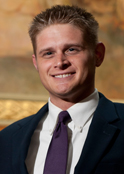 Matt Egerer graduated from UW-Whitewater in 2007 and now works in one of Wisconsin's most historic buildings in downtown Madison: the state capitol. As a Legislative Aid to Representative and Assembly Minority Leader Peter Barca, Egerer relies daily on experience that he gained through his degree in political science.
"The subject matter about the mechanics and theories about government and politics goes hand in hand with the practical application we apply here at the capitol," Egerer said.
Just as representatives from the Wisconsin State Assembly debate and discuss on the future laws, rules and regulations, Egerer utilizes similar skills from his past courses and fieldwork in political science. "I always liked the debating and discussion aspect of it," he said. "A large part of political science is the debating of ideas and debating the merits of concepts and positions."
During his time at UW-Whitewater, Egerer was involved in student government, a fraternity and intramural sports. He also gained experience from jobs and internships, including the Walworth District Attorney's Office, the City of Whitewater and multiple political campaigns. "Internships are a great opportunity because they show you what it's like to be in the positions that you're considering. I felt like I got my feet wet in a number of things that were within my field of what I wanted to do."
After his internship with the District Attorney's office, Egerer realized the courtroom wasn't his forte, and he realized he really enjoyed state campaigning and lawmaking. After Egerer helped State Legislator Kim Hixon's campaign during his final semester at UW-Whitewater, Hixon made a pitch for Egerer during an assembly meeting, and another representative soon hired him after graduation.
Egerer also debunked the myth that political science degree holders won't find a job after they graduate. "Yes, political science is a broad field so you can do a lot of different things with it. But you can't go work at the political science store. With political science you have a great deal of flexibility, but you have to map out what you want to do with it," he said.
Egerer said that part of the wonderful thing about Whitewater is that you have the opportunity to be a big fish in a small pond. "Being in organizations gives you leadership, experience and a background so that when you walk into an interview, rather than talking about what you've been studying, you can say I was in charge of this, and here is something I've done. It gives you real world things you can point to and really show yourself as a potential employee."
Along with networking, Egerer recommends to both potential and current students to take your courses and projects seriously while in school and gain as much experience as you can. "You think you're not going to write papers when you graduate, but really you probably are in a variety of different professions. Everything for the most part is dealing with people. You'll have to summarize verbally or on paper what your points of view are."
Egerer hopes to continue working with politics and recommends the Political Science major to any undecided undergraduate. "Don't declare right away if you're not sure. I think it's good for a new political science student to have a loose plan. Take a variety of classes to see what you're interested in. At Whitewater you can take part in many opportunities."
Article Written by Eleanor Jacobson, L&S Media