Try it Tuesday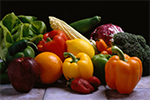 Come to the library to try samples of unique & healthy foods. Every Tuesday, Andersen Library Lobby, 2:00 - 3:00pm.

Birth Control 101
Wednesday, November 5th, 1:00 - 2:00 pm in UC 259B. Come to this interactive workshop to learn more about birth control options.


Worksite Wellness »
Creating a healthy campus community.
Covering Kids & Families web site »
Questions about health insurance? To learn more about health insurance options for young adults in Wisconsin.