Warhawk Angie Carchesi earns national award for audio feature
November 10, 2023
Written by Chris Lindeke | Photos by Craig Schreiner, submitted
Angie Carchesi has shown impressive versatility and talent in digital media during her time at the University of Wisconsin-Whitewater.
In her three-plus years on campus, she has won four awards each from the Wisconsin Broadcasters Association and the Wisconsin Community Media for her TV and radio work.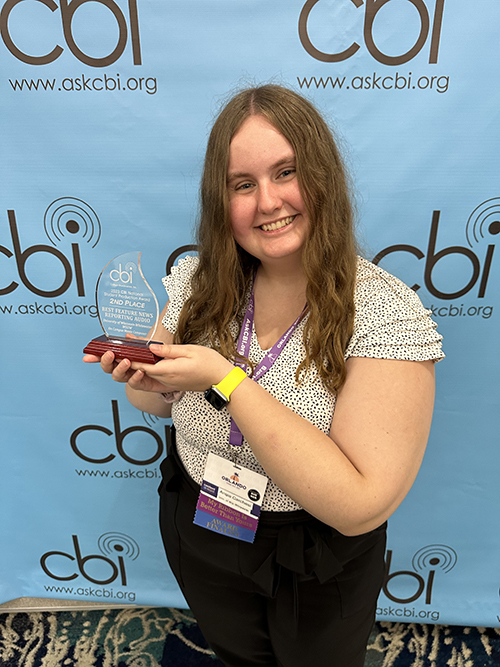 She recently added a national award to an already impressive list of accolades.
Carchesi, a senior communication major with electronic media emphasis from Franklin, earned second place in the Best Feature News Reporting category from the College Broadcasters, Inc., for her audio story "On Campus Music Composer." The contest included submissions from all over the country from institutions of all sizes, including Mississippi State University, the University of California, Berkeley, North Carolina State University and the University of Texas.
"I've worked really hard to work on these projects and make them the quality that I want to see," Carchesi said. "I've also had a lot of fun working on them, so it was really cool to be able to be recognized for my hard work."
The piece was completed for a course and originally intended to be submitted to the Wisconsin Broadcasters Association for a contest earlier this year but was repurposed for the CBI's 2023 National Student Production Awards. The story features Jeff Herriott, a professor in the departments of music and communication at UW-Whitewater who has produced score and soundtrack music for major motion pictures.
Brian Lucas, a lecturer in communication at UW-Whitewater and advisor for WSUW, the student-run radio station, chose Carchesi's story from a collection of work and nominated it for CBI recognition.
"The combination of good storytelling and good production work made for a nice piece to submit," Lucas said.
Carchesi found out she was one of four finalists for the award in August, just before the start of the fall semester. She was named runner-up on Oct. 21, the final day at the CBI's National Student Media Convention in Orlando, Florida.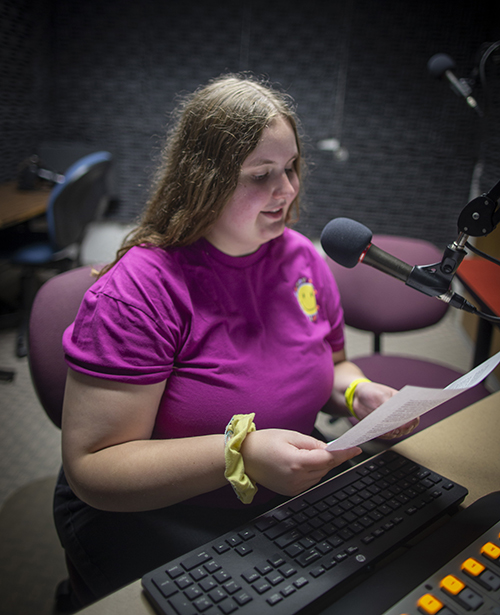 "Her story was one of the only nominations that wasn't a hard news story," Lucas said. "She did her profile piece on Jeff, and the rest were more serious, so it was even more impressive to me that she took second because it was more of a soft story."
Carchesi attended the conference with Lucas and fellow student Drew Best, a senior journalism major. She enjoyed the networking opportunities with other students and the ability to listen to other college radio advisors and professionals in the radio industry.
"Angie did a great job representing the station and the university," Lucas said. "She got involved, asked questions and learned things. She has a great attitude and work ethic."
As a high school student, Carchesi participated in several forensics tournaments at UW-Whitewater and attended the Whitewater Forensics Institute summer camp in 2019. She was then invited to campus for a more in-depth look at the TV station and radio station facilities by Brian Schanen, advisor for UW-Whitewater's nationally competitive forensics team.
That exposure, combined with the university's small class sizes and a one-hour driving distance from her hometown, contributed to Carchesi's choice to attend UW-Whitewater.
Since stepping onto campus in the fall of 2020, Carchesi has embedded herself into the university culture, taking advantage of every opportunity that's been put in front of her.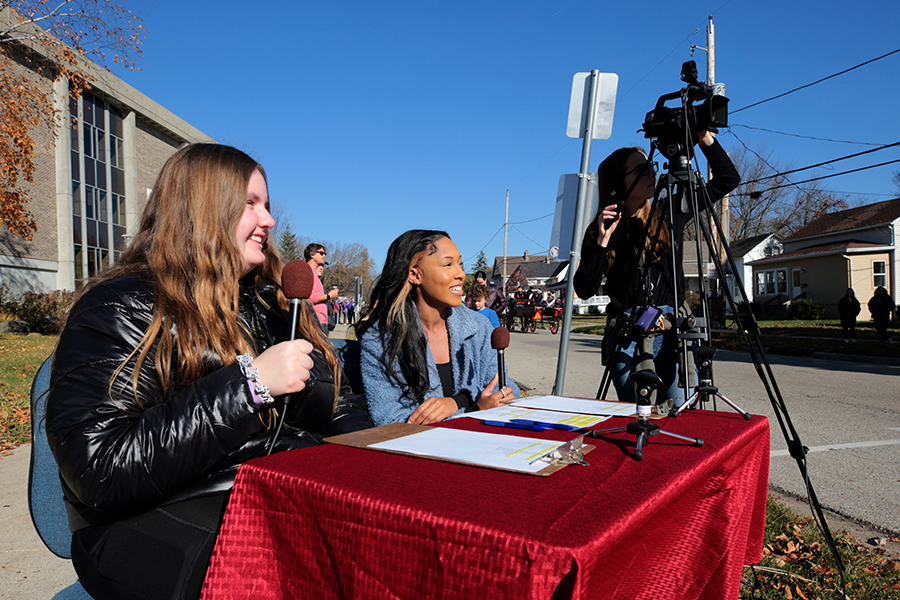 In her second week on campus, Carchesi walked into the UWW-TV offices at Andersen Hall and spoke with Jim Mead, UWW-TV general manager and lecturer in communication, about working for the student station. She entered her freshman year with four years of high school classes in video production and a willingness to appear on camera or or to work behind the scenes in production.
Mead hired Carchesi as on-air talent for UWW-TV's News Update. She served in the role for her entire freshman year, earning course credit for her work during the spring 2021 semester.
"Doing that really made me feel like I belonged here," Carchesi said. "I knew that I chose the right major and chose the right organizations to be involved with."
Mead said it is rare for a student to work for the station eight straight semesters.
"Angie is someone who makes this institution very proud," Mead said. "She came into this university with a gift, and we are fine-tuning that in her courses. She enjoys a challenge and doesn't shy away from some of those tougher assignments."
Carchesi was encouraged to join the WSUW team by a friend and, in the fall of 2021, became the station's promotions director, a position she still holds. As part of her position, she is a member of the station's executive board.
"She's smart, she brings a good attitude, she does good work, she shows up and she's a good participant — all the attributes you look for from someone on your staff," Lucas said.
Based on her interactions at the CBI conference, Carchesi said she was one of the few students there who works in both TV and radio on their respective campuses.
"A lot of the students from bigger schools who we were talking to at our conference said that there's not as many opportunities," Carchesi said.
During her sophomore year, Carchesi was notified of an open video production position in UW-Whitewater's James R. Connor University Center by Amal Ibrahim, an associate professor in communication. She applied for the position and was hired as video production assistant — a role she still holds.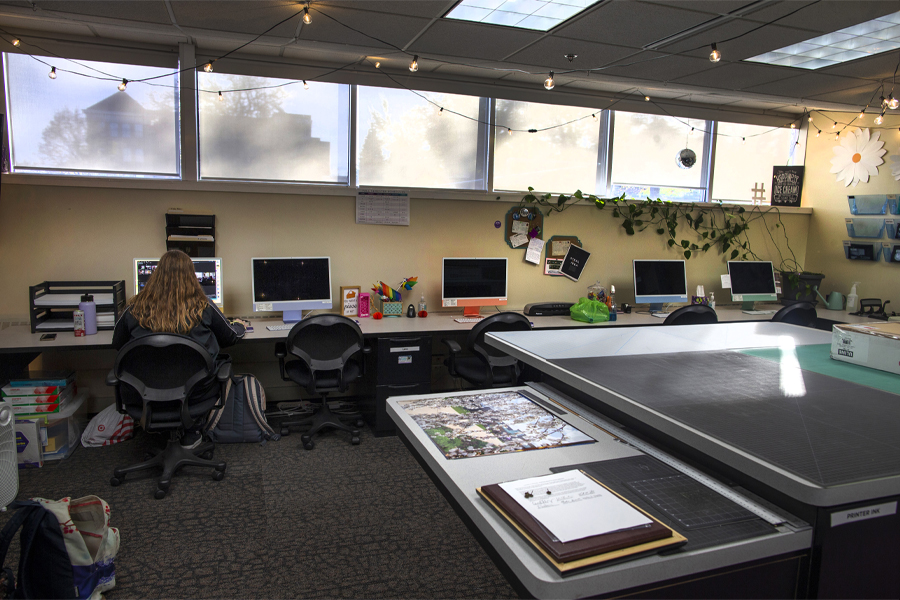 Jenny Fisco, manager of UC Graphics and Marketing, said Carchesi's work highlights the University Center and its student employment program as well as multiple events and services available in the facility.
"Angie is very talented and creative in video production," Fisco said. "She is such a fun-loving and positive person, and her passion for creating videos comes through in every video she produces."
Carchesi also serves as an ambassador for the Department of Communication. In that role, she assists with presentations for Warhawk Preview Days, presents to students in intro-level courses and advises students interested in studying communication.
A second-generation Warhawk, Carchesi will graduate this May with a degree in communication and an impressive resumé in digital media.
"She's committed," Lucas said. "She takes on things that she wants to contribute to and have a positive impact on. She follows through. She's a good person to be around."