CAMPUS MEMORY GARDEN
In honor of Mary Beth Mackin
The UW-Whitewater Campus Memory Garden is a place to celebrate, honor and remember our fellow Warhawks.
The garden contains a Memory Wall that memorializes both current students, staff and faculty members we have lost, as well as Warhawks who have made and are making significant contributions to our campus.
Established in 2017 in honor of former Dean of Students Mary Beth Mackin, the garden is a place of reflection and repose. It is also a place of celebration — the tassels that appear on the columns every commencement are a popular backdrop for graduation photos.
Adirondack chair
This Adirondack chair was built by the late Rod Berg, master craftsman and longtime supporter of Warhawks Athletics, with materials generously donated by Home Lumber.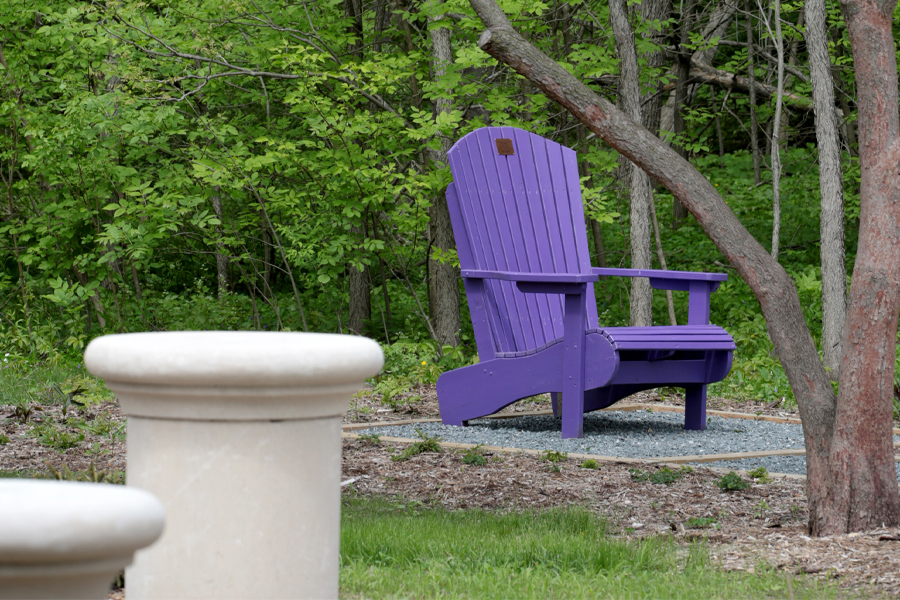 Garden columns
The columns in the garden and the architectural capitals atop them were recovered from the fire that destroyed portions of Old Main on February 7, 1970.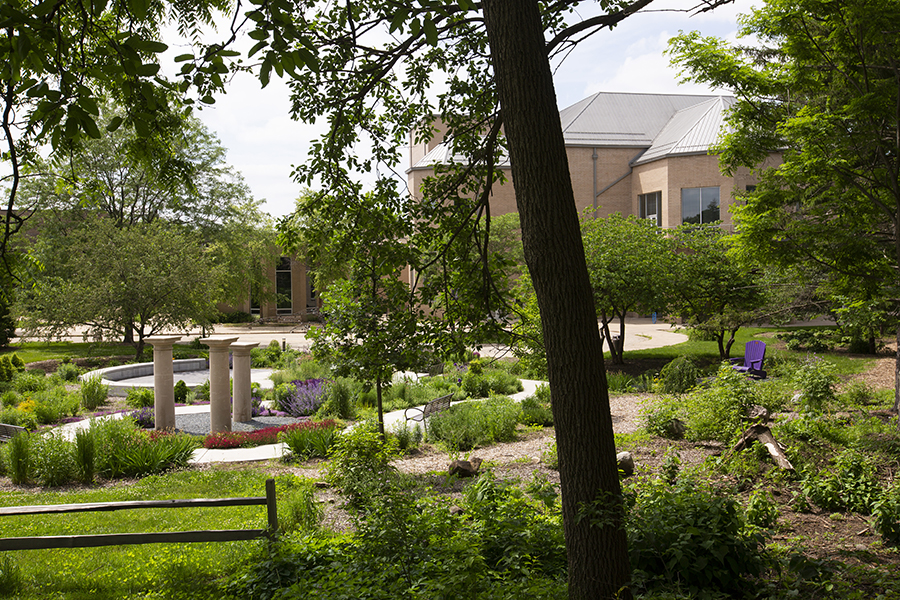 Tassels
Purple tassels are added to the columns every May Commencement for that perfect celebration of Warhawk pride!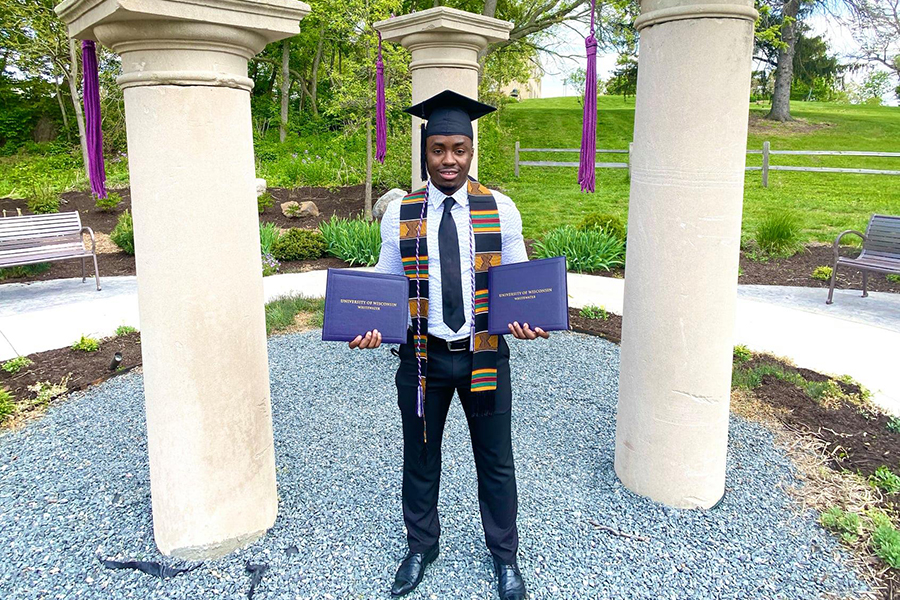 Memory Wall
Copper plates on the Memory Wall in the garden recognizes members of the Warhawk family — students, faculty and staff — who have left us too soon. The wall also honors achievements, extraordinary memories and milestones of our campus community and alumni.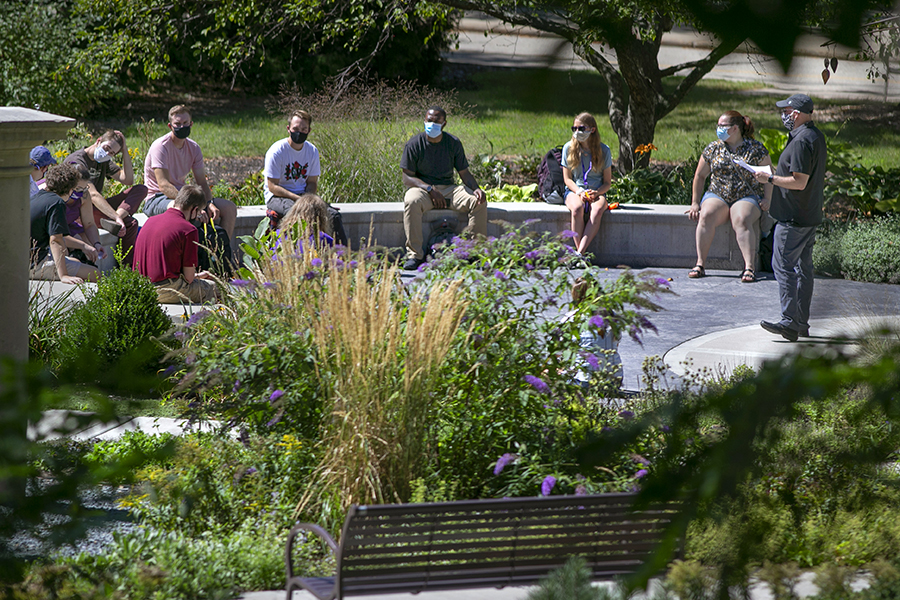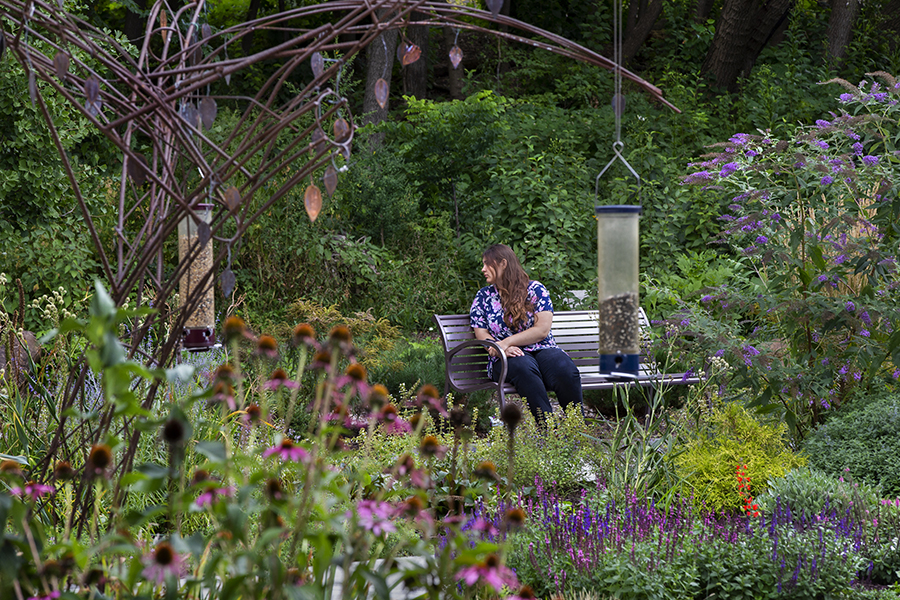 Bird feeding sculpture
The Campus Memory Garden was designed and built around the bird feeding sculpture, a tree made out of rebar that was a student's project for a metals class in the early 2000s. The copper leaves on the sculpture reflect donations to the bird seed fund.
Out of respect for the memory of those whose passing inspired the garden, the Campus Memory Garden is intended to be a place of tranquility and veneration.
Examples of appropriate uses include: Performances, occasional classroom use, candlelight vigils, special occasions, etc. Use of the space is at the discretion of UW-Whitewater and must follow all university policies.
To reserve the garden for an appropriate use, please contact the University Center Reservations Office at 262-472-1175 or rooms@uww.edu. There is no fee.

If you'd like to help with upkeep, or have general questions about the garden, please email MemoryGarden@uww.edu.