General Education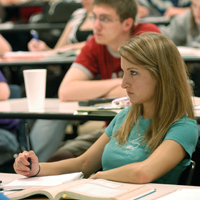 We can teach [students] how to be marketing people. We can teach them how to manage balance sheets. What is killing us is having to teach them to read and to compute and to communicate and to think."- Louis V. Gerstner, Jr. CEO IBM
A common base to build on


General education exposes students to a common core of knowledge from a diversity of viewpoints, and hones their thinking and communication skills to better enable them to apply their knowledge. All students at UW-Whitewater must fulfill the general education requirements in order to complete their degree, meaning every student graduates from our university with the tools they need for success in the workplace and in all areas of their life ahead.
Education for the professions is built upon this base. University graduates need to understand the reciprocal interaction for profession, society and their daily lives. Career opportunities now and in the future will require individuals who can actively respond to changing work environments, continue to learn and grow, and work cooperatively with people of diverse backgrounds.
Exploring the General Education courses, usually done during the first few years of schooling, offers a unique opportunity to experience a wide range of subject areas. The broad exposure provided by the General Education program helps students to make better informed career decisions in college and better equips them to respond to evolving personal aspirations and changing career opportunities.