Flute Camp has been redesigned for 2018 with a new schedule and the return of elective classes! You will have the opportunity to develop and refine your skills as a soloist and as a member of both a small and large chamber ensemble. Campers will be placed in ensembles and classes (Tone/Technique and Repertoire) with other players of similar level. Participants will develop their artistry, technique, and performance skills through daily activities that will include:
Chamber Music (Flute Quartets,Trios): Each camper will be placed in a flute quartet, or trio, and ensembles will receive daily coaching with faculty and staff. All chamber groups will perform in a chamber recital on Wednesday evening in the Fern Terrace at Young Auditorium. After this concert, faculty and staff will select a small number of "Honors Ensembles" to perform their pieces again at the Final Camp Recital.
Flute Choir: Explore fun repertoire for flute ensemble! Each camper will be placed in one of three flute choirs based on level and all groups will prepare a program to perform in the Final Camp Recital.
Tone/ Technique Class: Improve your tone, vibrato, and intonation while building all aspects of your technique from articulation to posture and balance in this daily warm-up class. Small group classes with 3-4 players of similar level.
Repertoire Class: Get feedback on pieces you are working on, learn tips for collaborating with a pianist, and beat performance anxiety in this faculty master class hour. Content varies daily. Solo performance is optional although encouraged. Group classes with 6-10 players of similar level.
Faculty Recital
Guest Artist Recital with Q&A
Elective Classes: Dalcroze Eurhythmics, Piccolo Class, Extended Techniques, Yoga for Musicians and Low Flutes. Participants select two elective classes to attend daily.
The camp will culminate in two final recitals featuring all students performing in chamber ensembles and flute choirs.
Elective Classes
Dalcroze Eurhythmics: Improve your rhythm and sense of pulse in this experiential, movement- based class.
Piccolo Class: Tame the Tiny Beast! Beginner and advanced piccolo classes. Players will be placed in small group classes with players of similar level. **Please bring your own piccolo, or borrow one, for camp. If you do not have access to a piccolo, please contact Dr. Ballatori by July 1st (ballatoc@uww.edu).
Extended Techniques: Explore creating new sounds on the flute through extended flute techniques like singing and playing, multi-phonics, and more!
Yoga for Musicians: Stretch, balance, and breathe!
Low Flutes: Explore the members of the low flute family and learn how to play the alto and bass flutes.
Awards
The UW‐Whitewater Flute Camp will be awarding a number of scholarships to next year's camp. These awards will be determined by the camp staff and announced at the final concert. Winners will receive a promo code to use registering for next year's camp.
Final Recital
All campers will perform in one of the three Flute Camp Flute Choirs and a select number of small Honors Ensembles will also perform.
Typical Daily Schedule
| | |
| --- | --- |
| 9:00 - 9:50 a.m. | Tone Class |
| 10:00 - 10:50 a.m. | Technique Class |
| 11:00 - 11:50 p.m. | Elective Classes |
| 12:00 - 12:50 p.m. | Lunch |
| 1:00 - 1:50 p.m. | Flute Choir |
| 2:00 - 2:50 p.m. | Chamber Music (Coached) |
| 3:00 - 3:50 p.m. | Repertoire Class |
| 4:00 - 4:50 p.m. | Individual Practice and Chamber Music Rehearsals |
| 5:00 - 6:00 p.m. | Dinner |
| 6:15 - 7:50 p.m | Guest Artist Visits, Recitals, Clinics (Vary Each Day) |
| 8:00 - 10:30 p.m. | Movies, Swimming, Bowling/Ice Cream Party (Vary Each Day) |
*All times are subject to change.
Guest Artists 2018
Diane Boyd Schultz (Flute and Piccolo)

Flutist and piccoloist Diane Boyd Schultz has established her career through solo and chamber performances in the United States, Canada, France, the United Kingdom, Russia, Romania, and Austria. She has performed as flutist and piccoloist of the Dallas Bach Society, Alabama Symphony, Terre Haute Symphony, Tuscaloosa Symphony, Shreveport Symphony, and Richardson Symphony Orchestras. She is a prizewinner of several national and international competitions, including the Mu Phi Epsilon International Competition and the National Federation of Music Clubs Orchestral Winds Competition. Her festival appearances include Interlochen and Blue Lake Fine Arts Camps, the British Flute Society, National Flute Association, Mid-South Flute Festival, Florida Flute Association, and the Flute Society of St. Louis, and performances have been broadcast on Red River Radio and Blue Lake Public Radio. She has also recorded for the Emmy award-winning documentary Weathered Secrets and for incidental music to the play Death of A Salesman.
She has presented masterclasses and clinics in England, Québec, the Bahamas, Cuba, Michigan, Missouri, Illinois, Mississippi, Tennessee, Arizona, Texas, Ohio, Colorado, New York, Oklahoma, and Florida. A Rotary International Scholar, she studied at McGill University in Montréal, and she has received grants to pursue her interest in studying and commissioning new works for flute and piccolo by American composers. She performed for the world premieres of Chris Brubeck's Hermitage Cats Save the Day at the Hermitage Museum in St. Petersburg, Russia, and at the National Gallery of Art in Washington, D. C. Her articles have appeared in Flute Talk,Pan, and Instrumentalist.
Schultz is professor of flute of the School of Music at The University of Alabama, where she is also a member of the Capstone Wind Quintet. Previously she was on the faculties of Stephen F. Austin and Eastern Illinois Universities. She is a Yamaha Performing Artist.
Linda Pereksta (Baroque Flutes)
Linda Pereksta, Associate Professor of Music, teaches Flute, Aural Skills and Chamber Music at The University of Wisconsin Oshkosh, and holds the position of Piccolo with the Madison Symphony Orchestra. Prior to coming to Wisconsin, she taught at The University of Mississippi and Tulane University, and had been a member of the Arkansas, Tupelo, and Memphis Symphony Orchestras. During her time as a tenured member of the Louisiana Philharmonic Orchestra in New Orleans, she performed in the orchestra's 2005 joint concert with the New York Philharmonic, playing under the batons of James Conlon, Leonard Slatkin and Lorin Maazel. She can be heard with the two orchestras on the Nonesuch CD, "Our New Orleans," accompanying Randy Newman.
An accomplished and highly-regarded performer on historical flutes, Dr. Pereksta has been engaged to perform with such period-instrument ensembles as the Washington Bach Consort, Spire Baroque Orchestra, Madison Bach Musicians, Ensemble Musical Offering, Belle Meade Baroque, Tallahassee Bach Parley, and Baroque Southeast. She serves on the National Flute Association's Historical Flutes Committee and is Editor of TRAVERSO, a quarterly newsletter featuring articles about the flute's history. She has performed at numerous NFA conventions and regional flute festivals, and has written articles for The Flutist Quarterly and Flute Talk. Twice a major prizewinner in the NFA's Baroque Flute Artist Competition, her doctoral treatise, "Twentieth-Century Compositions for the Baroque Flute," was a winner of the NFA's Graduate Research Competition.
Dr. Pereksta earned a BM in Performance (with Honors and Distinction) from The University of Iowa, an MM in Performance from The Peabody Conservatory of Music of The Johns Hopkins University, and a DM in Performance with a Certificate in Early Music from Florida State University (where she won a Doctoral Fellowship). Her primary flute teachers included Betty Bang Mather, Charles DeLaney and Robert Willoughby, and she has had additional Baroque flute studies with Colin St. Martin, Claire Guimond and Rachel Brown.
Camp Staff
Cristina Ballatori, Director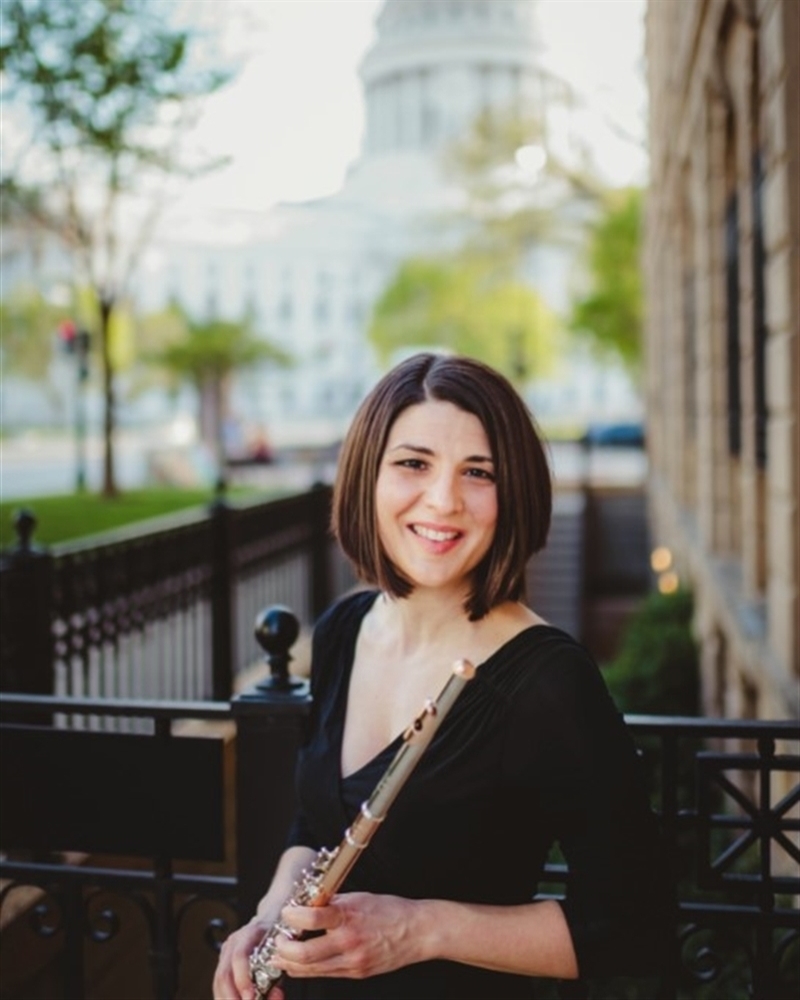 Cristina Ballatori has performed across the United States, Europe, England, and Latin America as a recitalist, soloist, chamber and orchestral musician. Recent performance highlights include concerts in such venues as the 2016 World Flutes Festival in Mendoza, Argentina, Atelier Concert Series in Paris, France, "Live from Hochstein" Series public radio WXXI in Rochester, New York, and artist residencies in Spain, Costa Rica, and Mexico. Ballatori regularly appears as a guest artist and has been a featured performer, clinician, and adjudicator at many festivals, universities, and conferences including those of the National Flute Association, Music Teachers National Association, Texas Music Educators Association, Florida Flute Association, and Mid-South Flute Society among others.
Dr. Ballatori joined the University of Wisconsin-Whitewater music faculty as Assistant Professor of Flute in Fall 2016. The recipient of the 2013 University of Texas System's Regents' Outstanding Teaching Award, she previously served as Associate Professor of Flute at the University of Texas Rio Grande Valley (UTRGV). Ballatori completed the Doctor of Musical Arts in Flute Performance, Pedagogy, and Literature at the University of Colorado at Boulder. The recipient of a Rotary Foundation Ambassadorial Scholarship, she received a postgraduate diploma from the Royal Northern College of Music in Manchester. She earned performance degrees at Louisiana State University (M.M.) and George Mason University (B.M.). Her major teachers include Alexa Still, Peter Lloyd, Katherine Kemler, Judith Lapple, and Diane Smith. Visit www.cristinaballatori.com.
Danielle Breisach
Dr. Danielle Breisach holds a Doctorate of Musical Arts from the University of Wisconsin-Madison, and a Master of Music and Bachelor of Music Education from Western Michigan University. She is the Artistic Director for the New Muse Ensemble and the Co-Artistic Director for the Madison Flute Club. Additionally, she is the festival coordinator for the Wisconsin Flute Festival. Dr. Breisach currently maintains a private studio of over 30 highly successful students in Madison, WI. She has participated in performances, masterclasses and festivals in United States, Canada, Italy, and China including the Bay View Music Conservatory, Le Domaine Forget, and the Banff Centre. She has performed with the Kalamazoo Symphony Orchestra, the Wisconsin Chamber Orchestra and the Kalamazoo Philharmonia among others. In addition to all modern flutes, Dr. Breisach enjoys playing traverso and Celtic flute. Visit www.daniellebreisach.com.
James Donahue
Flutist James Donahue enjoys a diverse career as orchestral musician, soloist, and teacher. Since 2012 he has been principal flutist of the Evanston Symphony Orchestra under the direction of Lawrence Eckerling. James is also an active freelancer and regularly performs as a guest flutist with such ensembles as the Elgin, Rockford, and Elmhurst Symphony Orchestras and the Midwest Philharmonic. Prior engagements include performances with the San Antonio and Waco Symphony Orchestras, and the Lyric Opera of Waco.
James maintains a strong interest in the ethnic flute traditions of the world and has given numerous lecture-recitals on the influence of the Japanese shakuhachi (an end-blown bamboo flute) on the western flute compositions of Toru Takemitsu, Kazuo Fukishima, Shirish Korde, and Wil Offermans. In 2007 he was a recipient of the Masuda Shuho International Shakuhachi Scholarship, which allowed him to study the traditional Buddhist repertoire with shakuhachi master Michael "Chikuzen" Gould.
James holds an Artist Diploma from the Oberlin Conservatory, where he was a student of the famed French flutist and pedagogue, Michel Debost. Prior to his graduate studies at Oberlin, James received his bachelor of music degree from the Baylor University School of Music, as a student of Helen Ann Shanley. He has also studied with Tal Perkes, Dr. Rita Linard, and Kathleen Chastain. Visit www.jamesdonahueflute.com.
Patricia George
Flutist Patricia George is an internationally known performer, teacher, and author. She has presented several hundred "Famous Flute Spa" masterclasses for universities, conservatories, public schools, and flute associations throughout the United States and Ireland. Currently, she is the Editor of Flute Talk Magazine and writes the monthly column "The Teacher's Studio." George is the co-author of the award-winning flute pedagogical series: Flute 101: Mastering the Basics, Flute 102: Mastering the Basics, Flute 102: Piano Accompaniment, Flute 103: Mastering the Basics, Flute 103: Piano Accompaniment, The Flute Scale Book, Advanced Studies: The Art of Chunking, and The Flute Vibrato Book, all published by Theodore Presser Company.
George has served as flute professor on the faculties of the Eastman School of Music Preparatory Department, Idaho State University (Faculty Achievement Award 1996), Brigham Young University-Idaho, Sewanee Summer Music Festival, and the American Band College. She is a graduate of the Eastman School of Music (BM, MM, Performer's Certificate in Flute). Her principal teachers were Frances Blaisdell, Joseph Mariano, William Kincaid, and Julius Baker. She currently resides in Appleton, WI with her husband American composer Thom Ritter George.
Shanna Gutierrez
As a specialist in contemporary performance practice and techniques, flutist Shanna Gutierrez is dedicated to promoting and advancing contemporary music in cultural life today through innovative performances and educational projects. She appears throughout the United States and abroad as a soloist, clinician, and in various chamber collaborations, including Collect/Project and Sonic Hedgehog. She is the co-founder of FluteXpansions, an online resource for contemporary flute. She has performed as a guest with the Collegium Novum Zürich, ensemble interface, ensemble TZARA, and Fonema Consort, in addition to concerts and residencies in Germany, Portugal, Switzerland, The Netherlands, South Korea, Mexico, Colombia, and United Kingdom. She has received numerous awards and accolades for her performances including, prizes at the Stockhausen Courses, the Darmstadt Summer Courses for New Music, and a NewMusicUSA project grant. She was a founding member of Chicago-based Ensemble Dal Niente, with whom she received the 2012 Kranichstein Prize for Interpretation. Premieres and performances of pieces written specifically for her have led to appearances at such festivals as the Gaudeamus Muziekweek, Sonic Fusion Festival, Darmstadt New Music Courses, BEAMS Marathon, and Omaha Under the Radar. As the founder of Sonic Sculptures: A Journey in Sound, Shanna presents concerts and workshops on contemporary flute music and techniques throughout the US and abroad. She performs on a Burkart flute and piccolo and Kingma bass and alto flutes. Visit www.shannagutierrez.com.
Timothy Hagen
Timothy Hagen is an internationally acclaimed flutist. Prizes include First Prize at the Myrna Brown Artist Competition, Second Prize at the Australian International Flute Competition, and the prestigious Graduate Scholarship from the Jack Kent Cooke Foundation. He is Principal Flute of the Missouri Symphony and has performed with ensembles across the country, including the Minnesota Orchestra, San Antonio Symphony, and Dallas Wind Symphony. A dedicated educator, Dr. Hagen has served on the faculties of Oklahoma State University and Brookhaven College, where he is currently Instructor of Flute. He has also taught for Lincoln Center, the Los Angeles Philharmonic, the Dallas Symphony, and The University of Texas at Austin.
Also in demand as a composer, Dr. Hagen has won awards from the American Composers Forum and MetLife Creative Connections. Upcoming commissions include the newly commissioned solo work for the 2017 Myrna Brown Artist Competition; a work for alto flute and piano for Marianne Gedigian, Professor of Flute at UT-Austin; and a work for piccolo and piano for a consortium of students of Jack Wellbaum, former solo piccolo of the Cincinnati Symphony. Dr. Hagen received his BM from the University of North Carolina School of the Arts, MM from the University of Southern California, Professional Studies Certificate from the Colburn School, and DMA from UT-Austin. His teachers include Jim Walker, Marianne Gedigian, Renée Siebert, Tadeu Coelho, and Philip Dunigan. Visit www.timothyhagen.com.
Dulce Rodriguez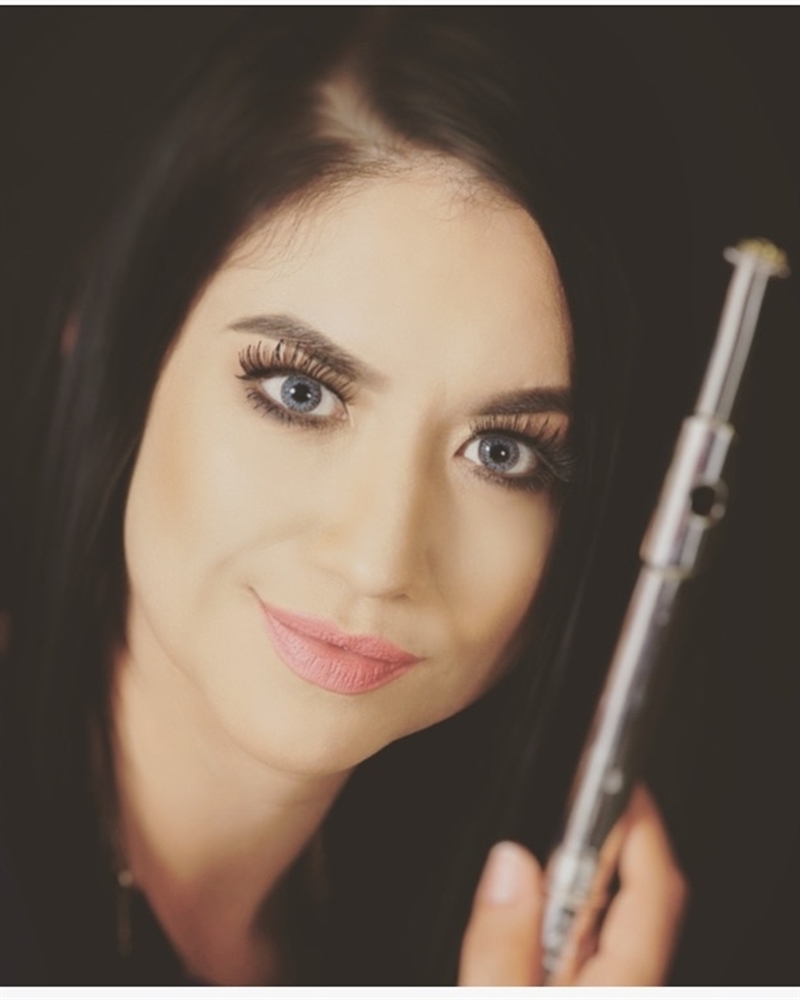 Dulce N. Rodriguez serves as Assistant Band Director at San Benito ISD in San Benito, Texas where she directs the flute studio and serves as Head Director of the Veteran's Memorial Academy 9th Grade Wind Ensemble. Rodriguez maintains an active schedule as a guest clinician. Her recent appearances include the Texas A&M-Kingsville Flute Day, South Texas Flute and Clarinet Festival, and the Texas Tech Flute Festival. During the summer, Ms. Rodriguez serves on the faculty of Floot Fire-Brownsville. An avid flutist, Rodriguez performs with the Brownsville Wind Symphony, and has participated in soundSCAPE summer festival in Pavia, Italy, and performed with the UTB Flautarra Ensemble at the National Flute Association Convention in New Orleans, Louisiana.
Since her arrival at San Benito ISD in 2010, Rodriguez has created activities and events for district flute students in grades 6-12 such as the Beginner Lesson Mentoring Program, pairing high school students with middle school students for lessons, Etude Bootcamp, and Flute Fiesta. Her flute students have consistently earned top chairs in region and state honor bands through the Texas Music Educators Association competitions, as well as, superior ratings at the Texas State UIL Solo & Ensemble. Under Rodriguez's direction, the Veterans Memorial Academy 9th Grade Wind Ensemble received a Sweepstakes Award at the 2017 Texas UIL Concert and Sight-reading Contest.
Rodriguez received her Bachelor of Music Education from University of Texas at Brownsville, and holds a Master of Music in Flute Performance from Texas Tech University. Her primary teachers include Dr. Lisa Garner, Dr. Cristina Ballatori, and Ms. Celeste Canant. She is a member of the Texas Music Educators Association (TMEA) and the Texas Band Masters Association (TBA).
Emma Shubin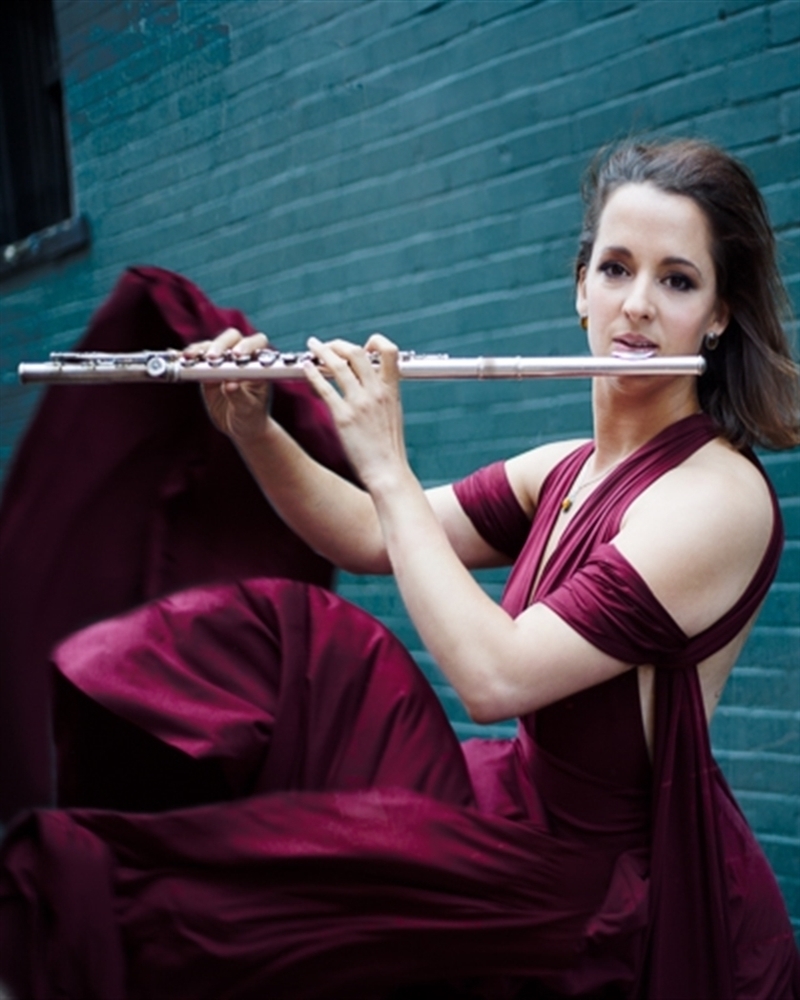 Flutist Emma Shubin is a Suzuki, Dalcroze, and Integrative Educator, and has been joyfully making music since the age of six. Ms. Shubin can be found enjoying the Rocky Mountain Region from her home in Louisville, CO where she works on various projects from composing and recording, performing and collaborating, to community engagement and integrative education and artistic events. She travels throughout the year performing all genres of music, giving workshops and masterclasses on audience engagement, Dalcroze Eurhythmics and Integrative education, and she teaches Skype/FaceTime and private lessons from Boston to Boulder and beyond. She serves as the co-director of the Musical Arts Program with the Sounds of Lyons in Lyons, CO (SOL MAP) and has toured with the Arts Evolution and BenFeng Music Festival throughout Taiwan with guitarist Alfredo Muro. A proponent of integrative education, Ms. Shubin is the co-founder and director of the Colorado based non-profit Integral Steps (www.integralsteps.org), which strives to bring integrative education and balanced development to individuals, families, and communities through music, movement, psychotherapy, ecology and creative arts. She currently serves as the coordinator for new programming and an instructor with the Dalcroze School of the Rockies, and partners Integral Steps with the theater program for youth Reel Kids. Her first album of original compositions created in collaboration with musicians from France, England, & Colorado was composed and recorded in Cabris, France this past summer, and will be released in the fall. Visit www.emmashubin.com.
Elizabeth Shuhan
Elizabeth Shuhan has been the principal flutist of the Fort Smith Symphony since 1998. She is presently a visiting lecturer of flute at Cornell University, a Suzuki flute specialist in Ithaca, New York, and lectures in music education at Ithaca College. She performs regularly in recital with the Shuhan Duo and is an active freelance artist with the Skaneateles Festival Orchestra, the Cayuga Vocal Ensemble, the Fingerlakes Professional Flute Choir and the Cornell Festival Orchestra. Ms. Shuhan was previously the director and flute instructor of the Suzuki Music School of Arkansas, a teaching assistant and lecturer of flute at the University of Arkansas and a member of the North Arkansas Symphony and the Meridien (MS) Symphony.
As a flute soloist, she has performed with the Fort Smith Symphony, the North Arkansas Symphony, the Music Festival of Arkansas Orchestra, the University of Southern Mississippi Symphony and the Hunstville (AL) Youth Symphony. Ms. Shuhan was a 2005 winner of the National Flute Association Convention Performers and Professional Flute Choir Competitions. She was also the first-place winner of the 1998 Mid-South Flute Society Competition, a finalist in the 1997 Music Teacher's National Association Collegiate Artist Competition, a winner of the 1997 MTNA South-Central Regional Collegiate Artist and 1996 MTNA State (AR) Collegiate Artist Competitions and a finalist in the 1995 Fischoff Chamber Music Competition.
Ms. Shuhan has received advanced teacher training in the Suzuki flute method, earning certification with the Suzuki Association of the Americas while studying with Toshio Takahashi, Kenichi Ueda, David Gerry, Pandora Bryce and Sarah Hanley. She earned degrees from the University of Arkansas and the University of Southern Mississippi. Prinicipal teachers include Ronda Mains, Sharon Lebsack and Sheryl Cohen. Other teachers include Marianne Gedigian and Bart Feller. She has performed in numerous masterclasses for William Bennett, Marc Grauwels, Jim Walker, Carol Wincenc and Charles Delaney.
Elizabeth Shuhan is a Burkart Flutes artist. She has recorded for the Naxos label, Albany Music, and for PBS.
Insurance
Registrants are encouraged to have their own health insurance as accident insurance provided by the University is limited. Each registrant will be covered by a limited accident insurance policy. The insurance includes primary coverage up to $10,000. Insurance does not cover pre-existing injuries and is for accidents only. The cost of insurance is included in the registration fee.
Special Notice
The University of Wisconsin-Whitewater is committed to equal opportunity in its educational programs, activities and employment policies, for all persons, regardless of race, color, gender, creed, religion, age, ancestry, national origin, disability, sexual orientation, political affiliation, marital status, Vietnam-era veteran status, parental status and pregnancy.
If you have any disabling condition that requires special accommodations or attention, please advise us well in advance. We will make every effort to accommodate your special needs.
Registering for this event you understand that the University may take photographs and or videos of event participants and activities. You will be required to agree at the time of registration that the University of Wisconsin-Whitewater shall be the owner of and may use such photographs and or videos relating to the promotion of future events. You will relinquish all rights that you may claim in relation to use of said photographs and/or videos.