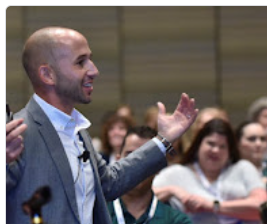 Zach Mercurio - Creating a Culture Where Everyone Matters
August 24th, 2022 // 10:00am - 11:30am
Young Auditorium
Open to Staff and Students
Benefits Fair
October 12th, 2022
10:00 am - 2:00pm
Old Main Ballroom University Center Room 275
Warhawks in Motion - Step Challenge
** WARHAWKS IN MOTION TEAM LEADERBOARD **
Warhawks in Motion - Flyer (Spanish)
Warhawks in Motion is a team step/movement challenge that will run from June 13 th- August 19 th. This is a friendly, campus/workplace wide competition encouraging healthy living and exercise. Completion of the Fitness Challenge will fulfill the well-being activity in the Well Wisconsin program. The Benefits Team will provide you with the Well Wisconsin connection code. Completion of the health assessment and a health check is stillnecessary to earn the $150 reward.



The UW-Whitewater Wellness Team is proud to announce our 4th Annual WINGO! This year's focus is on Whitewater/Warhawk trivia. WINGO runs from March 7 th- November 1 st.
Let's have some fun, test your knowledge, and maybe learn something new!
KEPRO WORKSHOPS
Effective Performance Appraisals – Presented by KEPRO
Delivering a performance appraisal can be as intimidating for a manager as it is for the employee. The goal should be to not only document and evaluate the employee's performance, but also set goals for growth and allow for an open and honest dialogue about expectations. Date: 7/22/2022
Time: 12:00 PM, America/Chicago
Click Here to Register & Attend
Workday Workouts - Presented by KEPRO
Date/Time: 6/22/2022 12:00 PM, America/Chicago